What we have learnt during the COVID-19 pandemic is that our online-based clients fared very well, especially those in the software industry. A client of ours managed to increase website visits using an advertising medium that is traditionally ignored by B2B marketers. Today we look at how Yahoo! JAPAN Display Ads helped to improve website sessions and event registration for an established, global B2B SaaS company. 
Yahoo! JAPAN is Japan's no.1 web portal with 79 billion page views a month1. Furthermore, it's Japan's second largest search engine with 18% market share. Although it is second to Google as a search engine, Yahoo! JAPAN has more monthly digital users than Google. To learn more about the platform and our service offering, visit our Yahoo! JAPAN service page and this blog article that compares Yahoo! JAPAN and Google.
---
Case Study: B2B Software As A Service
One of our clients is a SaaS company that provides integrated travel and expense management services to businesses. Their product offers an easier way to manage expenses, unlike the traditional methods of submitting paper receipts and reporting using manual spreadsheets. 
Challenge
They wanted more people to know about their seminar to increase event sign-ups and attendees. Search ads alone were not bringing enough traffic to their landing page.
Suggestions
Use Yahoo! Japan Display Ads (YDA) to advertise their event
Focus on users who have shown interest by using Search Keyword Targeting
Run YDA campaigns for 6 weeks prior to the event
Strategy
The account manager helped accumulate keywords to target and support the client to create compelling ad copy. The client prepared the creative.
Results
Visitors to the event landing page increased dramatically. The client was very happy with the results as they saw 10 times more people visiting their event landing page.
We are now discussing a YDA campaign for their next event.
---
Event landing page visitors during YDA campaign period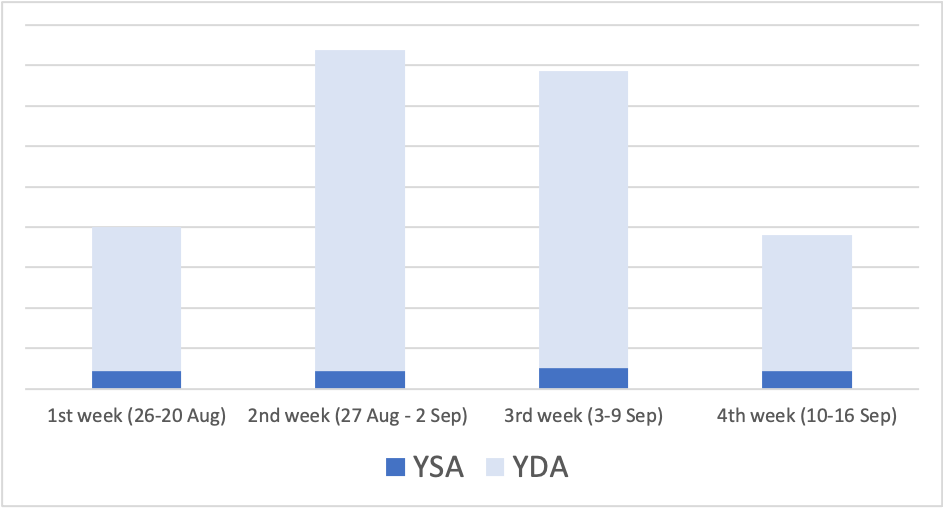 In conclusion, based on this case study and others at our agency, Yahoo! JAPAN Display Ads have proven to be highly effective for not just B2C companies but also for B2B advertisers. In our experience, many B2B marketers are hesitant in running display ads based on how Google display ads perform in western markets. In Japan, however, internet users interact with Yahoo! JAPAN differently and as a result, even B2B companies are able to see great results from display ads. You can learn more on how Yahoo! JAPAN compares to Google for B2B and the new auction-type Yahoo! JAPAN Display Ads, or contact us to start running online ads in Japan.