The auction-type display ads, which Yahoo! JAPAN began offering to all advertisers in July 2020, maximises ad performance through optimised ad delivery. This article introduces the features of the new auction-type Yahoo! JAPAN Display Advertising, which has increased the efficiency of ad management.
Yahoo! JAPAN is Japan's no.1 web portal with 79 billion page views a month1. Furthermore, it's Japan's second largest search engine with 18% market share. Although it is second to Google as a search engine, Yahoo! JAPAN has more monthly digital users than Google. To learn more about the platform and our service offering, visit our Yahoo! JAPAN service page and this blog article that compares Yahoo! JAPAN and Google.
The new display ad structure
Display ads are image, video, and text ads that appear in ad spaces on websites. Display ads appear on pages viewed by Internet users who may be interested in the content of the ad.
This is an introduction to the new features of auction-type display ads, a successor to YDN, which has been available to all advertisers since July 2020.
You can choose your campaign objectives
Advertisers are given six types of objectives to choose from. This will allow you to maximise your ad effectiveness by optimising the delivery for the objectives you set.

Simple and easy-to-use control panel
Yahoo! JAPAN display ads are now easier to view and operate with an intuitive UI. Consequently, the interface displays graphs and has the ability to create a report comparing two periods.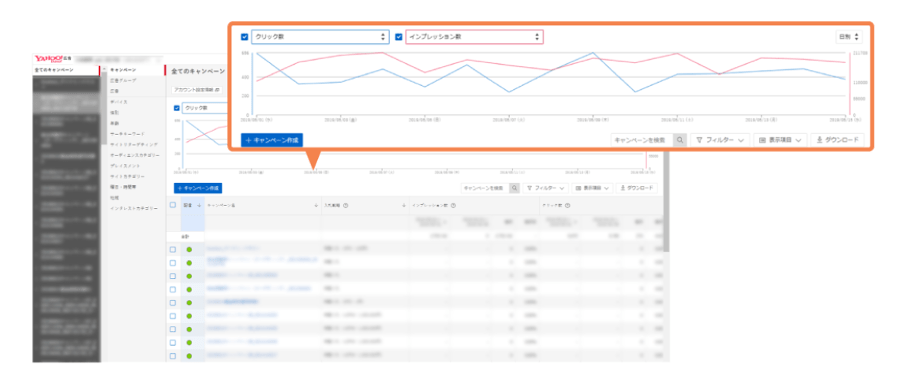 Maximising ad performance through campaign-focused delivery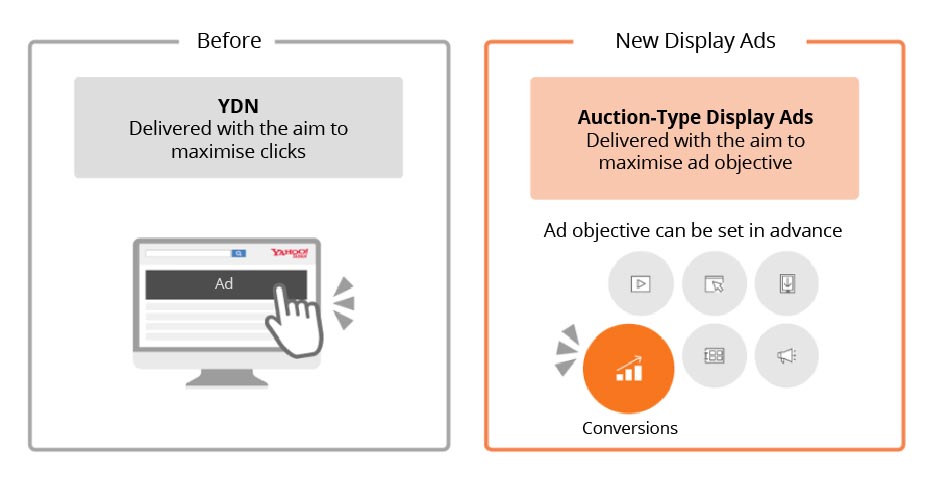 Switching to auction-type display advertising is already proving to be highly effective
Evidently, advertisers who have switched to auction-type display ads are already seeing improved conversion-related metrics compared to YDN.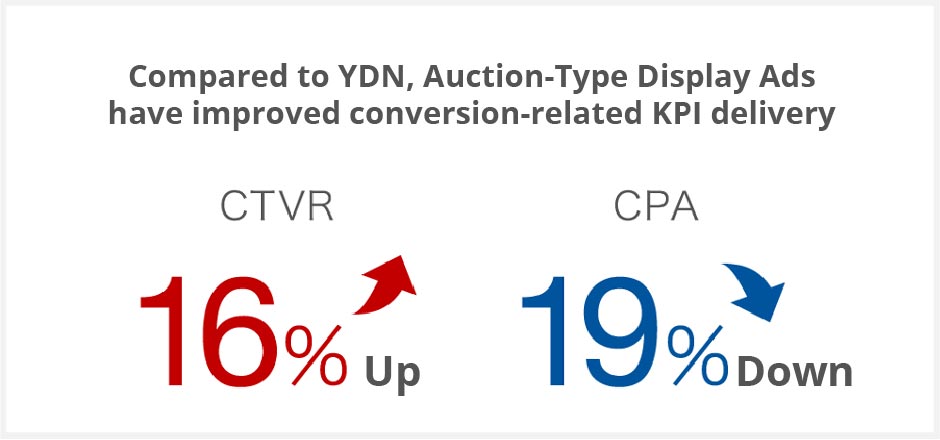 *CTVR: calculated by the ratio of ad results (conversions) to the number of ad impressions, click-through rate (CTR) x conversion rate (CVR).
*CPA: acquisition cost per conversion, calculated by dividing the cost by the number of conversions.
*Measurement period: comparing actual results for static banners from 1 July 2020 to 31 July 2020 and the same period in 2019.
*Data: accounts with at least 75% of their budgets in transition between 1 July 2020 and 31 July 2020 and with results still occurring between 1 July 2019 and 31 July 2019 (except for one account with an extremely high number of conversions).
*Yahoo! JAPAN does not guarantee the performance for all submissions. In order to get better results, you need to install conversion tags, accumulate conversion data, and simplify your account structure to prevent data dispersion.
This is a translation of a Japanese article by Yahoo! JAPAN. You can find further information on the difference between YDN and the new auction-type display ads on this Yahoo! JAPAN help page. 
Ready to start running auction-type display ads on Yahoo! JAPAN?
You will be hard-pressed to find detailed guidance in English for the new Yahoo! JAPAN display ads, but we're here to help! Our team of experienced, bilingual Japanese PPC experts will help you through every step of the process from setting up the ads to optimising the campaign. Contact us to learn more about our complimentary support for businesses and agencies advertising on Yahoo! JAPAN.