When creating your online marketing strategy for the Japanese market, it is important to know how people use different social media platforms.  Your understanding of this will greatly shape and change the outcome of your digital campaigns. We have previously shown you the user interface considerations for social media platforms, but in this article we will focus on who is using which platforms in Japan and how they are using YouTube, Twitter, Instagram and Facebook.
Popular social media platforms in Japan 2020
You can find the top social media channels of 2020 in Japan, but it's worth bringing our attention to behavioural and usage statistics for social media users in Japan. In the chart below, you can see the level of awareness for each platform as well as whether the user stopped using the app or have only heard of the service.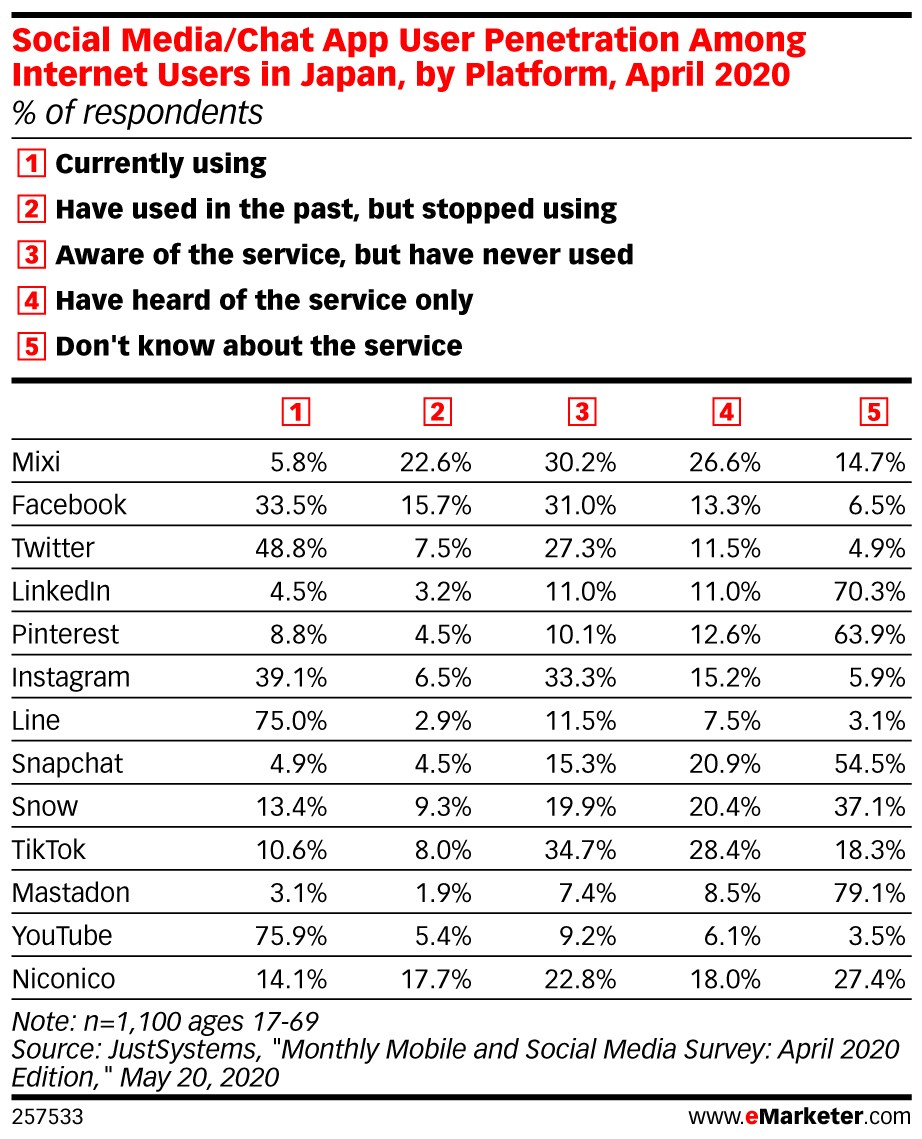 As you can see, YouTube and LINE are the most popular platforms currently being used with 75% of the survey respondents actively using both apps. LINE's increase in users in 2020 could be because of their coronavirus support features and track-and-trace service offered within the app. On the other hand, Mixi, Facebook and Niconico seem to be losing users. Furthermore, 70.3% of respondents were unaware of LinkedIn, followed by Pinterest (63.9%) and Snapchat (54.5%). It seems people are becoming aware of TikTok but only 10.6% are currently using the app.
YouTube (user numbers, demographics and trends)
YouTube has risen to the top as the most widely used social media platform in Japan with user numbers right behind LINE at 62 million. Their popularity could be attributed to a cultural shift from blogging to vlogging. In addition, the COVID-19 pandemic is changing many Japanese people's behaviour, with many spending more time on digital platforms. Entertainment channels take up most of the top YouTubers chart and it seems people are going to YouTube instead of traditional TV.
#1: Hajime Shacho (9.1 million subscribers)
#2: Hikakin TV (8.9 million subscribers)
#3: Fischer's (6.58 million subscribers)
According to a survey by Trenders of 800 Japanese social media users aged 15 to 49, 62% of them use YouTube to kill time, 40.7% to gain updates on topics of interest, and 39.8% for discovering something new1. Furthermore, although most YouTube users do not post content of their own, they seem to be using the platform to deepen their understanding of what they like, such as topics and hobbies they are interested in. Many appreciate honest product reviews from the user's point of view.
As user demographics are considered, there is a high penetration rate in all age groups – especially in the younger generations. As younger users find alternative ways to consume media, the growth of YouTube is anticipated to continue.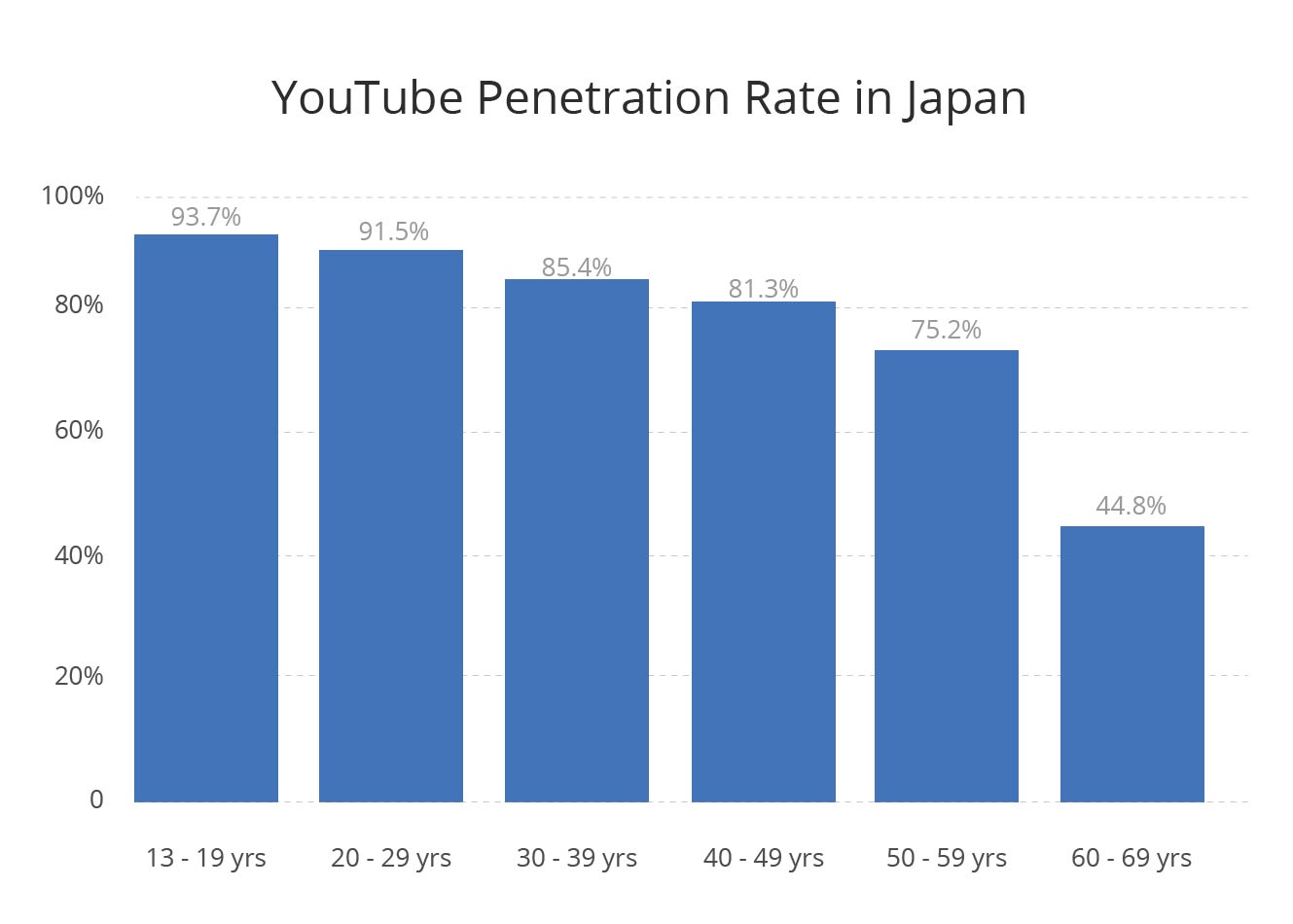 Twitter (user numbers, demographics and trends)
In terms of global Twitter users, Japan comes in second place after the USA with 48.45 million users2. Out of those users, over 70% are anonymous according to this Business Insider article. Anonymous Twitter accounts allow the often-shy Japanese to post honest opinions on current events and pop culture. Many people follow celebrities and news accounts as Twitter is heavily used to get the latest news, especially for natural disasters. Also, since there is no time difference across the nation, it is popular for users to tweet about a live event or TV programme. 
According to the same survey by Trenders, Twitter users' main reasons for using the platform are to gain updates from the accounts they follow (53%), to kill time (46.7%), and gain updates on topics of interest (39.4%)1.
Japanese Twitter users are slightly more male than female (58.7% vs 41.3%)2 and the average age is 35 years old, although there are many users in their 20s3.
Instagram (user numbers, demographics and trends)
Instagram has 33 million Japanese users, and it is most popular among younger generations. Those aged 18 to 29 are spending over 100 million hours a month on the platform3, making Instagram the best platform out of the four for reaching gen Z audiences. Japan generates the most "stories" content in the world at 7 million a day and boasts the 2nd highest engagement rate in the world4. With slightly more female users than males (55.2% vs 44.8%)2, the platform is popular for beauty and fashion brands that create visually appealing content.
According to the Trenders survey, Instagram users' number one reason for using the app was to gain updates from the accounts they follow (62.6%) which is nearly 10% higher than for Twitter1. This was followed by killing time (50.7%) and updates on trends (45.6%). Unlike Twitter use, 27.2% use Instagram to get the latest information on products and events. Whereas Twitter is referenced for intangible trends, Instagram is the go-to app for updates on products and material items.
Facebook (user numbers, demographics and trends)
Although Japanese Facebook users have decreased from 28 to 26 million since 2018, there is still a significant number of people using this social media channel. Since users need to be verified, unlike Twitter, most people use their real names and use the platform for business networking3. As a result, the channel's content is characterised by having a more formal tone than other social media channels.
As for user demographics, most registered users are almost evenly split between male and female (51.7% vs 48.3%)2 in their 20s and 30s; however, the most active users are in their 30s, 40s and above3.
In conclusion, we hope this article has helped you to better understand how Japanese social media users interact with the top social media platforms. For further reading, we also wrote about how LINE Ads may be better than Facebook Ads in Japan, and UI/UX tips for LINE, Facebook, Twitter and Instagram. For further information or support for social media marketing in Japan, please do not hesitate to contact us Japanese digital marketing experts at DMFA.
1Source: "User motivation of YouTube, Twitter, Instagram" by Trenders (October 2020)
2Source: "Digital 2020" report by Hootsuite
3Source: "Most popular social media platforms in Japan"  by We Love Social (March 2020)
4Source: "Top 10 countries with the highest and the lowest Instagram engagement rate" by Hype Auditor