Before you start selling your products or services online in Japan, it's important to have a good understanding of the ecommerce market – the size, trends, and opportunities. In this article, we go over the state of ecommerce and cross-border ecommerce in Japan, and also reveal the top three trends to look out for. 
The state of ecommerce in Japan 
In 2021, the ecommerce market increased as the goods and digital content markets grew steadily and the services market grew slightly. The BtoC ecommerce market, which combines the product, service, and digital markets, grew 7.35% year-on-year to 20.695 trillion yen, according to a  compiled by the Ministry of Economy, Trade and Industry, published in August 2022 . The market size increased by 1.4171 trillion yen compared to the previous year (2020). In addition to natural growth, the market expansion is thought to have been driven by the lingering effects of the pandemic and increased online shopping due to stay-at-home demands.
Ecommerce Market Size by Sector
・Products: 13,286.5 billion yen (+8.61% YoY)
・Services: 4,642.4 billion yen (+1.29% YoY)
・Digital: 2,766.1 billion yen (+12.38% YoY)
The size of the global cross-border ecommerce market is also growing. The global cross-border ecommerce market size was estimated to be US$780 billion in 2019, and that value is projected to grow to US$4.82 trillion by 2026. With an average annual growth rate of approximately 30% during that period, the market size of cross-border ecommerce is expected to expand more quickly than global BtoC ecommerce. 
The reasons for the projected expansion of the market size include consumers' growing awareness of cross-border ecommerce, their desire to buy products that are not available in their home country, the availability of products at lower prices than in their home country, and their trust in the products and manufacturers. On the brand side, some of the reasons behind their adoption of cross-border ecommerce are the wish to expand their consumer target worldwide and improved logistics standards.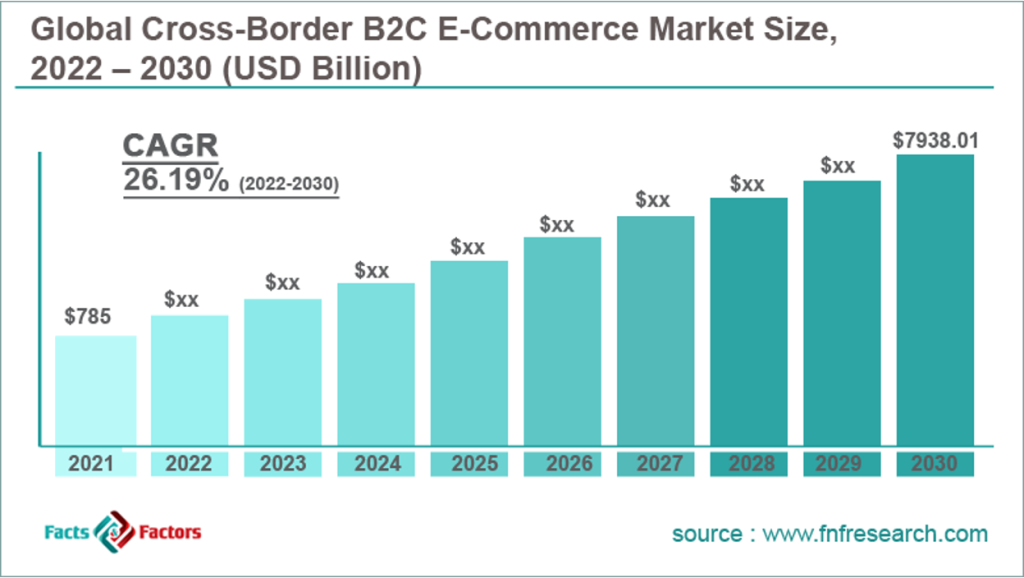 https://www.fnfresearch.com/cross-border-b2c-e-commerce-market
As cross-border ecommerce becomes more common, it's important to ensure success by entering the Japanese market properly. There are many differences between Japan and other countries in terms of language, culture, values, trends, laws, means of transportation, and programmes. DMFA provides support for cross-border ecommerce, including market research, localisation, digital advertising, and ecommerce. Please feel free to contact us for more information. 
Ecommerce trends in Japan
Ecommerce has been rapidly growing in Japan, and with that growth comes the emergence of new consumer trends. In particular, there are three significant trends that have been shaping Japanese ecommerce: sustainability, omni-channel shopping, and ID payments.
Trend 1: Sustainability
The sustainability trend in Japanese ecommerce is becoming increasingly important as more consumers become aware of the impact of their purchasing habits on the environment. Japanese consumers are known for their eco-consciousness, and they search for environmentally-friendly products when shopping online. As a result, ecommerce companies are now focusing on offering eco-friendly products to meet this growing demand.
One way ecommerce companies are addressing this trend is by reducing packaging and using recyclable materials in delivery and packaging. For example, some companies are using biodegradable and compostable materials to reduce waste and minimise their environmental footprint. These efforts not only benefit the environment, but also the brands' image and reputation among consumers who prioritise sustainability.
Another way ecommerce companies are addressing the sustainability trend is by offering eco-friendly products. Many Japanese consumers are looking for products made from sustainable materials and that are produced using environmentally-friendly methods. Ecommerce companies are now offering a range of sustainable products such as organic and vegan products, as well as products made from recycled materials.
Trend 2: Omni-channel shopping
The omni-channel trend in Japanese ecommerce involves integrating online and offline channels to provide a seamless shopping experience for consumers. In Japan, consumers like to try products in-store before purchasing them online, and vice versa. This trend has led to the development of a harmonious shopping experience that combines online and offline channels.
Some ecommerce companies are now creating physical stores to enhance their online presence and to provide customers with a more complete shopping experience. These physical stores are designed to be interactive and engaging, allowing customers to try products before purchasing them online. For example, some ecommerce companies have opened pop-up stores in busy shopping districts that allow customers to test out featured products before making a purchase.
At the same time, ecommerce companies are also using technology to create a better shopping experience. They are using artificial intelligence and machine learning to personalise the shopping experience for each customer. This involves analysing the customer's browsing history, purchase history, and preferences to create a customised shopping experience that meets their specific needs.
Trend 3: ID Payments
ID payments (◯◯Pay) allow easy payments by linking account information. Examples of such services include PayPay, Amazon Pay, Rakuten Pay, and LINE Pay. It is a highly convenient payment method as it eliminates the need to input information when making a purchase. Since there is no need to enter credit card information, it also eliminates security concerns.
Although payment fees are a disadvantage for ecommerce companies, the number of users opting to pay with ID payment is growing rapidly, so it is definitely worth implementing. 
Ecommerce companies are also using digital IDs to personalise the shopping experience for each customer. By analysing the customer's digital ID, ecommerce companies can gain valuable insights into their preferences, purchase history, and browsing behaviour. 
Japanese ecommerce shoppers also tend to use e-money. The following picture shows that revenue from electronic money (e-wallet) is projected to increase significantly (from 7% to 45%) between 2017 and 2025.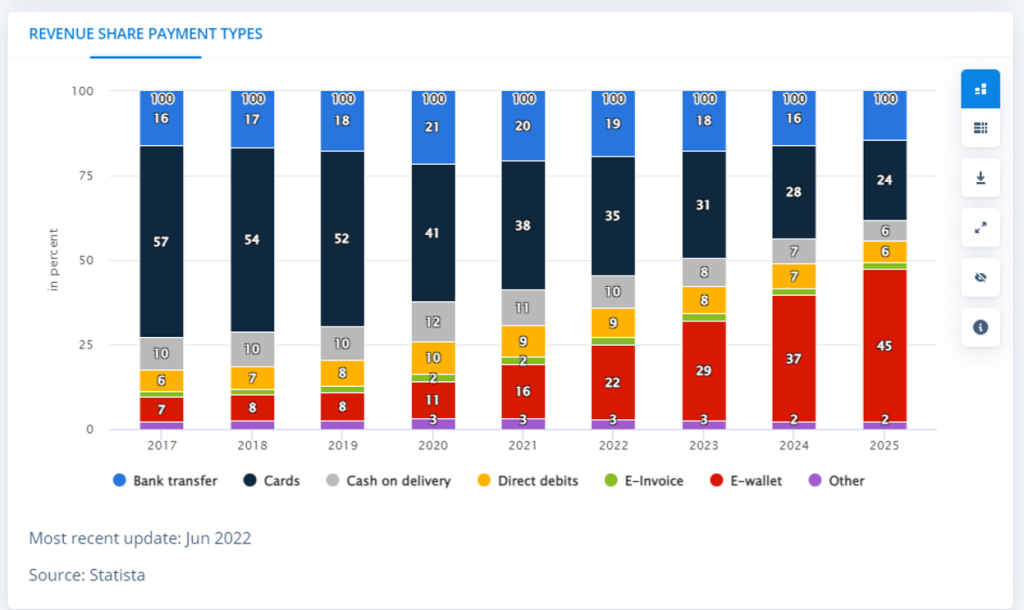 The implementation of ID payments is necessary for ecommerce merchants who wish to be successful in Japan. 
Implications for the future
The sustainability, omni-channel shopping, and ID payment trends are shaping the future of ecommerce in Japan. Ecommerce companies are recognising the importance of these trends and are adapting their strategies to meet the changing needs of consumers. 
The efforts by brands to be more sustainable benefit both their image and the environment. Omni-channel shopping provides customers with a seamless, more complete shopping experience that integrates both online and offline channels. ID payments  provide customers with a secure and convenient payment method that also allows for a more personalised shopping experience.
As these trends continue to grow and shape the Japanese ecommerce industry, companies that prioritise sustainability, offer a seamless shopping experience, and provide secure and convenient payment methods will be well-positioned to succeed in the evolving Japanese ecommerce landscape.
Furthermore, these trends may also serve as inspiration for ecommerce companies in other countries. As sustainability and personalised shopping experiences become more important to consumers worldwide, ecommerce companies can learn from the innovative approaches of Japanese companies and apply them to their own brands.
If you are interested in selling your products or services online in Japan, we at DMFA can help. We know the evolving ecommerce landscape and our team of bilingual account managers are happy to support your online marketing efforts.