Social media usage across APAC 
Social media is widely used throughout the APAC region. In fact, the Asia-Pacific region makes up the majority of unique social media visitors worldwide, representing 64% of the global audience. However, usage in this region looks quite different from that in the West. 
Although big players like Facebook and Twitter are still very popular, there are others that are unique and virtually unheard of in the West. Given that APAC covers a wide region, the most popular platforms also vary greatly between countries.  
Let's explore the most popular social media platforms among APAC's top 5 countries with the most amount of active social media users: China, India, Indonesia, Japan, and the Philippines. 
China
Given that many of the main Western platforms such as Facebook, YouTube, and Twitter are banned in China, the social media landscape in this country looks very different.
WeChat is the largest, with over 1.2 billion monthly active users. It is an all-in-one messaging super app that also provides services such as payment, news feeds, bookings, food delivery, and more.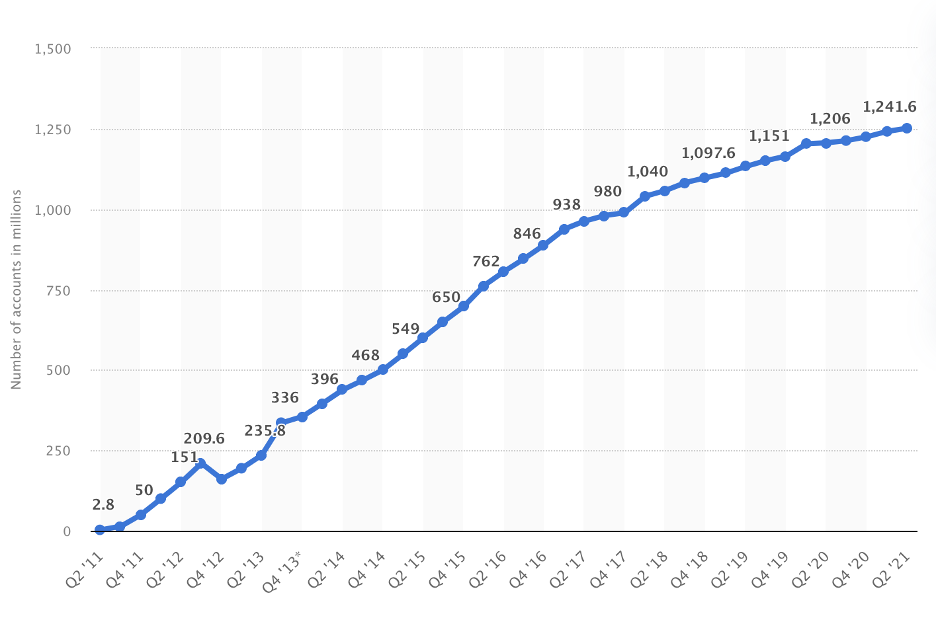 Another big platform is Sina Weibo, which is touted as the 'Twitter of China'. This micro-blogging platform has over 560 million monthly active users. It also comes with a character limit, similar to Twitter. 
Tencent QQ is a messaging app similar to WeChat, but with a slightly different demographic. With over 639 million monthly active users, QQ tailors more to the Chinese market, whereas WeChat has more users from outside of China. QQ works best on desktops and is mainly used to send emails or share files. 
In 2020, QQ introduced e-learning as the pandemic closed many schools in China. It launched a new feature that allows teachers to live stream lessons, and students can submit their homework through the platform's file-sharing function. 
Video sharing platform Youku Tudou, considered the equivalent of YouTube, is also popular. With over 325 monthly active users, it hosts both user-uploaded videos and full-length movies. 
India
India has 448 million social media users, which comes out to about 32% of the total population. The majority of these (445 million/99.5%) access social media via their mobile phones. Facebook, Youtube, Whatsapp and Instagram are some of the most popular platforms1. LinkedIn also has a strong presence, with over 37% of active social media users using the platform. 
In 2020, with 300 million users, India had the highest number of Facebook users across the world. It also ranked first globally with the most mobile downloads of Whatsapp and Tiktok in 2020. 
Indonesia
There are over 170 million social media users in Indonesia, which is about 62% of the total population. The most-used platforms are YouTube, Whatsapp, Instagram, and Facebook2. Indonesians mostly use social media platforms to communicate and interact with friends and family in an archipelago with over 17,000 islands.
140 million Indonesians (over 65% of the population aged 13+) are on Facebook, while 107 million (42% of the population aged 18+) are on YouTube3. However, YouTube usage is catching up. It had the largest social media penetration rate in Indonesia of 94% as of Q3 of 2020, while Facebook's penetration rate sits at around 61%. 
Japan
74% of Japan's internet users are on social media as of 2021, an increase of almost 5% compared to 20204. Based on the number of monthly active users, the most popular social media platforms in Japan are LINE and YouTube. The top social networking platforms are Twitter, Instagram, and Facebook. 
LINE has over 89 million monthly active users, which make up about 70% of the population. Categorised as a super app and similar to the Chinese app WeChat mentioned previously, LINE has a plethora of features other than messaging. These include newsfeeds, a cashless payment system, games library, TV streaming, digital comics, and ecommerce.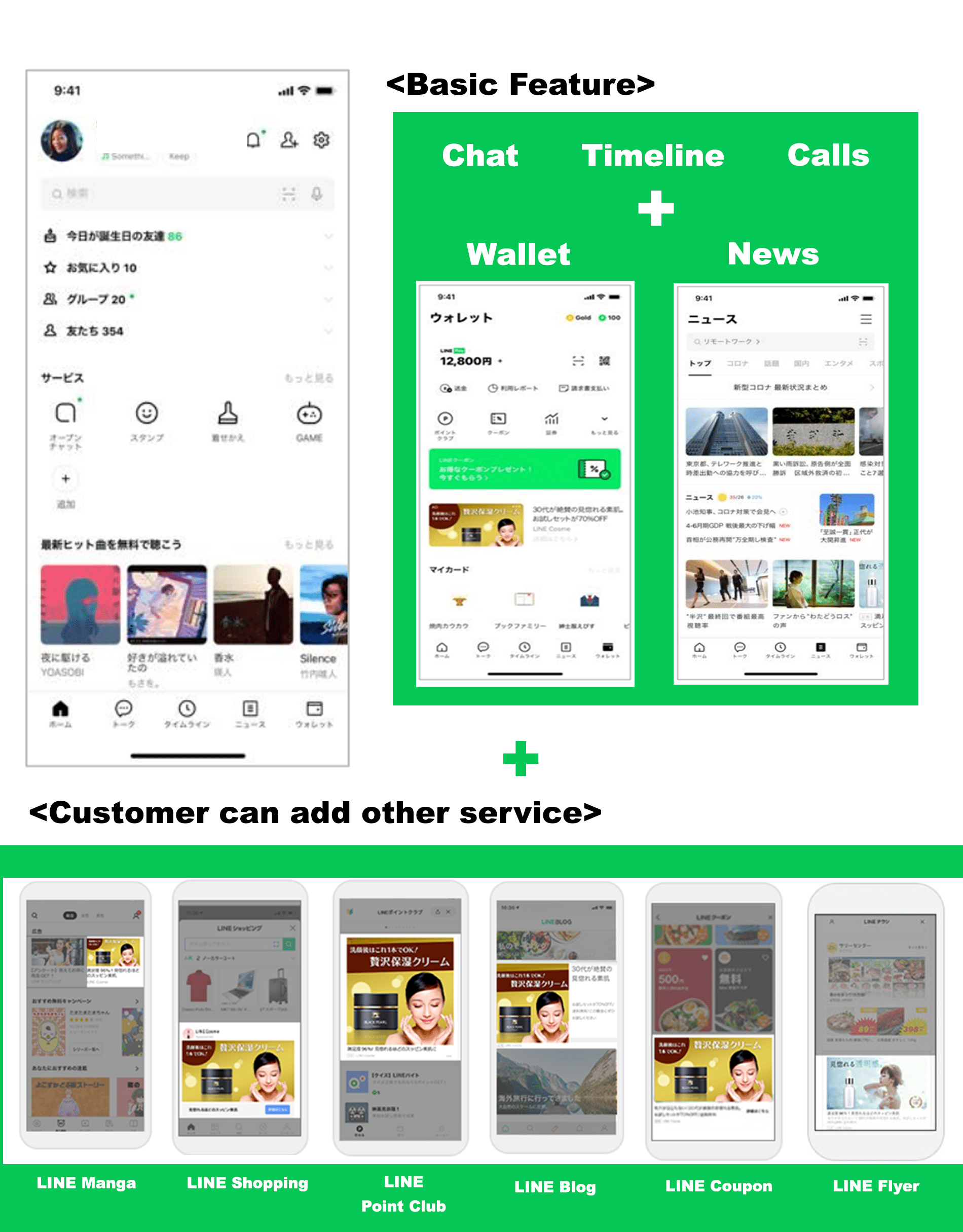 As the majority of Japanese internet users have LINE, regardless of age or gender, LINE Ads is one of the most effective ways for businesses to get ad impressions on smartphones. For further information about LINE, its users, and digital advertising, please refer to our other articles, Why LINE is the most popular messenger app in Japan and The Ultimate Guide to using LINE Japan for advertising your business.
YouTube has over 65 million monthly active users in Japan, which is over 50% of the population. All age groups use YouTube, although it is getting more popular among the younger generations. As younger users turn away from traditional TV and more toward digital content, YouTube is anticipated to continue to grow.
Twitter has 45 million monthly active users or 36% of the population. It is very popular among celebrities and influencers and is mainly used to stay up-to-date on current events or to get updates on topics users are interested in5. 
Other popular Japan-specific social media platforms include Niconico (video sharing), Snow (selfie camera app), Ameba (blogging). 
For more on the social media landscape in Japan, check out our complete guide to social media in Japan or our article on the different ways Japanese people use YouTube, Facebook, Twitter, and Instagram.
Philippines
At 4 hours and 15 minutes, internet users in the Philippines spend the most amount of time on social media per day across APAC. Comparatively, those in Japan spend 51 minutes per day on social media (as of 2020).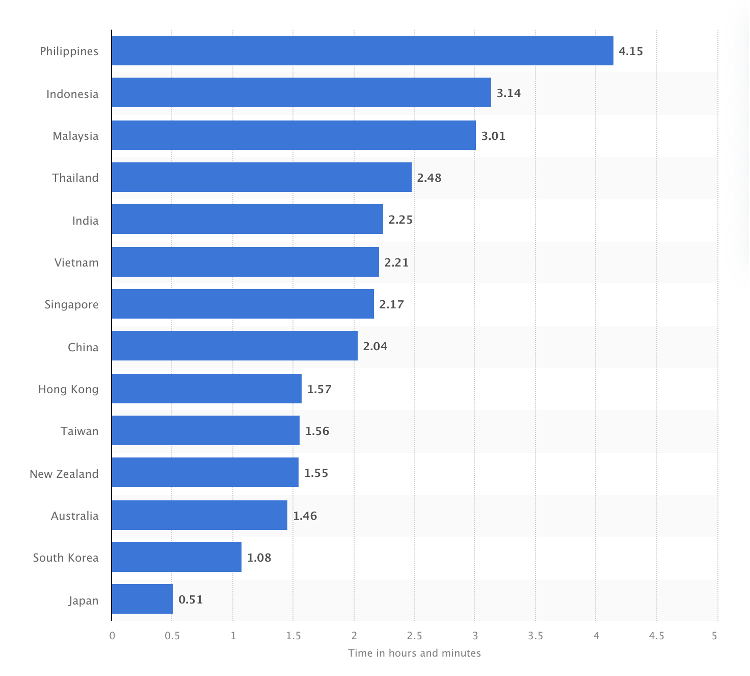 The most popular platforms are YouTube, Facebook, Instagram, and Twitter. Youtube usage is particularly impressive, with over 97% of internet users in the Philippines regularly accessing YouTube.  
Facebook is also a hugely dominant platform in the country, with almost 74 million users as of 2019. As of 2020, it also held nearly 93% of the country's social media market share. Many Filipinos use it to gather news and current events. 
Thailand
As of 2021, there are 55 million active social media users in Thailand, which equates to around 78.7% of the population. Mobile use is also very popular, with 99.3% of the population accessing social media via mobile. A whopping 100% of internet users between the ages of 16-64 use or visit a social networking site monthly, and 95.1% actively engage with or contribute to social media.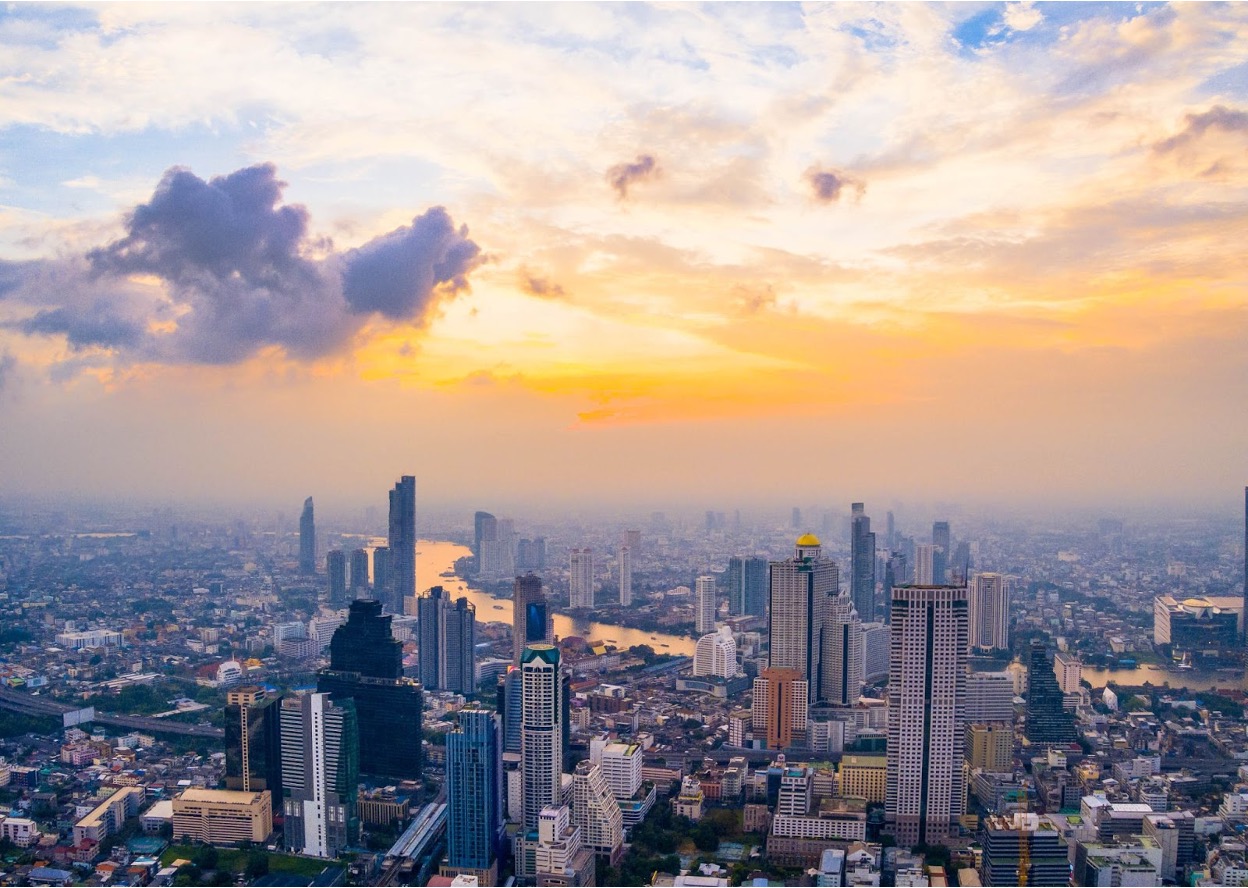 YouTube is the most popular, with 94.2% of internet users using the platform. 93.3% of internet users are on Facebook, while 86.2% are on LINE7. 
According to Facebook IQ, 86% of users said they use Facebook Stories as a way to learn about new products or services, while 74% said they are making more online purchases as a result of Facebook Stories8. This indicates that many Thai people use Facebook to gain new information and to shop for new products. 
Taiwan
In Taiwan, social media is hugely popular among internet users. In fact, according to DataReportal's 2021 report, 99.5% of internet users between the ages of 16-64 visit or use social media. The average daily time using social media is 1 hour and 56 minutes and the average number of social media accounts per user is 8.
The most popular is YouTube, with 89.6% of internet users on the platform. Close behind are Facebook and LINE, with 89.2% and 88% respectively. Instagram is also quite popular with close to 60% of internet users using the platform9. 
South Korea
89.3% of the entire South Korean population are social media users. However, the time spent and the amount of accounts held is relatively low compared to other Asian nations. The average amount of time spent per day on social media is 1 hour and 8 minutes, while the average number of social media accounts owned per internet user is 6.3. 
YouTube is the most popular platform in South Korea, with 85.9% of internet users aged 16-64 using it. Kakaotalk is next, with 80.1%. It is a messaging app, similar to WhatsApp. 
Similar to LINE, Kakaotalk also allows brands and companies to create pages called 'PlusFriend'. Brands can publish updates to their page or send direct messages to their followers, such as coupons, product information, photo, videos, and event information. Kakaostory is also quite popular, ranking 6th in DigitalReportal's study. It is a picture-sharing social media app that allows users to take, edit, share pictures and follow content. 
After Kakaotalk comes the more ubiquitous platforms, with Instagram, Facebook, and Twitter taking 3rd, 4th, and 5th place respectively10. 
Navigating the changing social media trends in Japan and around APAC
There are billions of social media users across APAC, including over 94 million in Japan alone. And with a multitude of platforms to choose from, it is critical to create the right content for the appropriate platform that matches your product, service and target audience. Arming yourself with Japanese social media marketing experts is a surefire way to reach your target customers in Japan. Contact us at DMFA to find out more about our services and how our bilingual consultants can assist you.
1Source:  https://datareportal.com/reports/digital-2021-india
2Source:  https://datareportal.com/reports/digital-2021-indonesia
3Source:  https://datareportal.com/reports/digital-2021-indonesia
4Source:  https://datareportal.com/reports/digital-2021-japan
5Source:  https://www.trenders.co.jp/news/1772/
6Source: https://datareportal.com/reports/digital-2021-thailand
7Source:  https://datareportal.com/reports/digital-2021-thailand
8Source:  https://www.facebook.com/iq/insights-to-go/tags/thailand
9Source:  https://datareportal.com/reports/digital-2021-taiwan
10Source:  https://datareportal.com/reports/digital-2021-south-korea