Did you know that thanks to recent digital transformation trends in Japan, cross-border ecommerce has huge potential in the Japanese market? If you are an overseas seller looking for a new market, here are some key trends and predictions to consider before selling your products and services in Japan.
Cross-border ecommerce market trends in Japan
1. Japan's cross-border ecommerce market is growing
According to Grand View Research's recent market analysis report, the Japanese cross-border ecommerce market growth is expected to reach USD 5,748.7 Million by 2030. That is a 7.5% compound annual growth rate, up from USD 2.59 billion in 2019. Amazon Japan, now the country's top ecommerce marketplace in terms of revenue, has many overseas sellers and a platform that allows international retailers to sell their products in Japan with ease. Learn more about Amazon Japan and other top ecommerce marketplaces in Japan. 
One sure way for growth hacking your business is to start selling in the Japanese market. Here is a checklist on how to enter Japan successfully with your product or service. 
2. Increase in Japanese smartphone users and mobile ecommerce
In January 2021, smartphone user penetration in Japan was 83.1%. Over the next few years, this is projected to grow to 92.44% by 2025.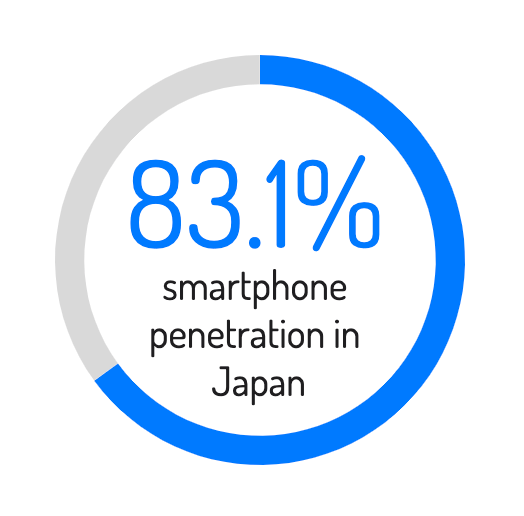 With this type of growth, we can expect an increase in users of smartphone services, including ecommerce apps. In addition, with 88.4 million people making regular digital payments in Japan, using mobile phones for commerce is becoming the norm and will continue to be in the future
3. Consumer behaviour changes and COVID-19
As mentioned above, mobile ecommerce is increasing in Japan which is just one of the effects of the global pandemic. The Japanese population, the oldest population in the world, has been heavily adopting digital services like online shopping and subscription services due to more people staying at home. Moreover, an increase in awareness of ecommerce and an avoidance of physical shopping has been contributing to Japan's market growth. With limitations on international travel, internet users are more willing to make cross-border purchases as their only option to source certain international goods. Get the full scope of Japanese consumer behaviour and the effects of COVID-19 in Japan via our white paper. 
---
Are you ready to start selling your product or service in the Japanese market? Our team of bilingual Japanese digital marketing experts offer consultation as well as bespoke support for online advertising. Contact us for your free initial consultation.