LINE Official Account is a place for businesses and stores to deliver information directly to users who have added them as friends via the LINE platform. As of March 2023, LINE boasts a monthly user base of 95 million people in Japan alone. In this article, we will provide a comprehensive guide on how to open a LINE Official Account.
1. What is LINE Official Account?
LINE Official Account is a service allowing brands to create an account on LINE messaging app to directly deliver various information to users who have added them as friends. Currently, over 370,000 companies and stores have opened accounts and are utilizing them for business purposes. By opening an account on LINE, businesses can access a vast user base of approximately 70% of Japan's population, and implement various measures related to sales promotion and customer acquisition. 
As accounts can be easily created online, we recommend referring to this article to learn how to create a LINE Official Account in three easy steps. 
The latter half of the article will provide detailed instructions on how to apply for verification after opening the account.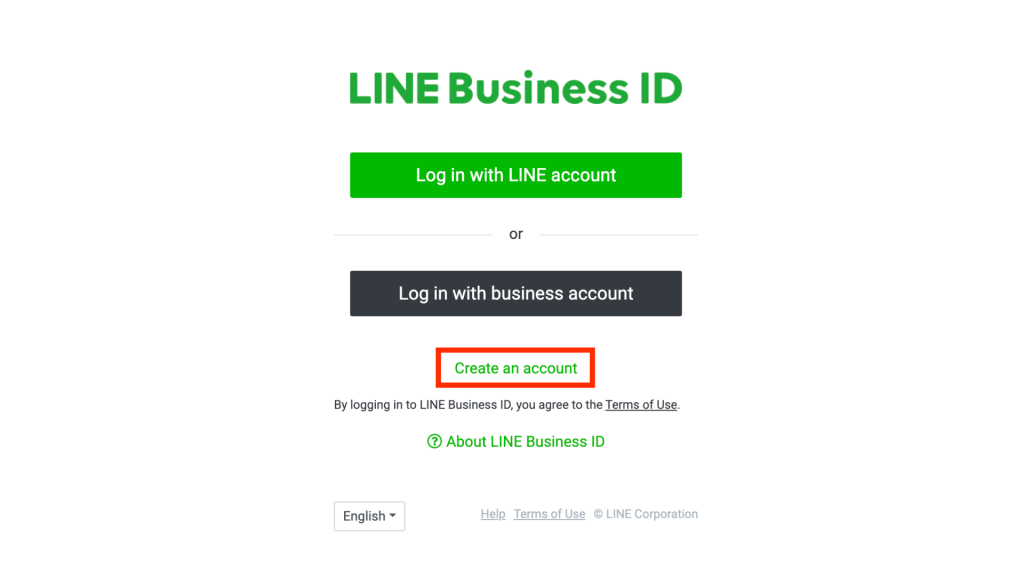 2. How to Create a LINE Official Account in 3 easy steps
Step 1: Choose "Create Account"
To initiate the account creation process, navigate to the LINE Official Account service page and click on the "Create LINE Official Account" button. This action will lead you to the following screen where you should select the "Create Account" option.
Step 2: Register With Your Personal LINE Account or Email Address
On the subsequent screen, you will be prompted to register your personal LINE account or email address that you currently use to create a LINE Official Account.
If you opt to register using your personal LINE account, the process of opening the account will be completed by linking your account to the LINE Official Account. 
However, if you choose to register using your email address, you will be required to input your email address and other necessary information to finalize the process.
Step 3: Sign in to the management screen (LINE Official Account Manager) to finalize the process. 
Once you have successfully logged in, the account setup will be complete. From there, we can move forward with configuring the basic settings for your LINE Official Account.
3. Account Settings
In this section, we will introduce the basic settings necessary for using your LINE Official Account.
3-1. Basic Information
After opening a LINE Official Account, various information related to companies or stores can be registered. You can find details on account settings in the manual provided below.
Please click here for more information on "Account Settings" (Japanese only).
Once the account settings are complete, remember to set up the public settings, so LINE users can find your profile. From the "Public Information" menu on the same screen, turn on the "Display in Search Results and Recommendations" option. Once the public settings are complete, your LINE Official Account will be displayed in search results.*
*Note that only verified accounts are displayed in search results. For more information on verified and unverified accounts, please refer to section "4-1. Differences between Verified and Unverified Accounts."
With these settings in place, we can now focus on promotional activities, such as increasing the number of friends and sending out messages.
3-2. Profile settings
LINE Official Account profile is the screen that is displayed to users when they become friends with a business. This screen shows basic information, such as business opening hours, addresses, and recent updates. It serves a similar purpose to the home page of a website.
3-3. Setting up a Greeting Message
The "Greeting Message" is the first message that users receive automatically when they add a LINE Official Account as a friend or unblock it. Since it is the first step in communicating with new users, the greeting message works as an introduction to your LINE Official Account. It can contain information about the account and thank users for becoming a friend.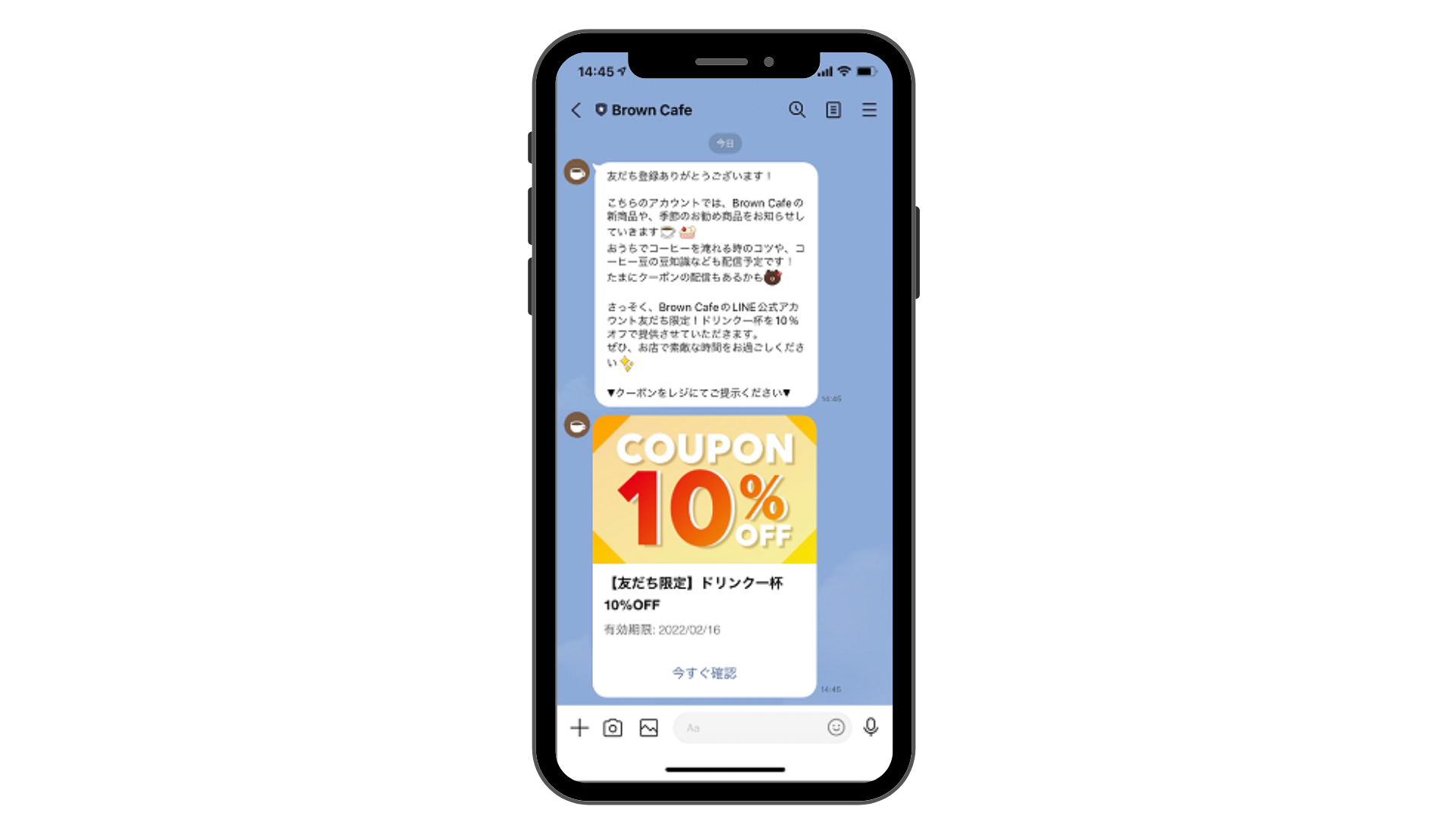 3-4. Message delivery
After completing the account setup, let's try sending a message to friends. The "Message Delivery" feature offers various message formats, like text, images, and stickers. On top of that, LINE offers unique formats like "rich messages" that can convey information more visually, as well as "cards" that can display multiple images in a carousel.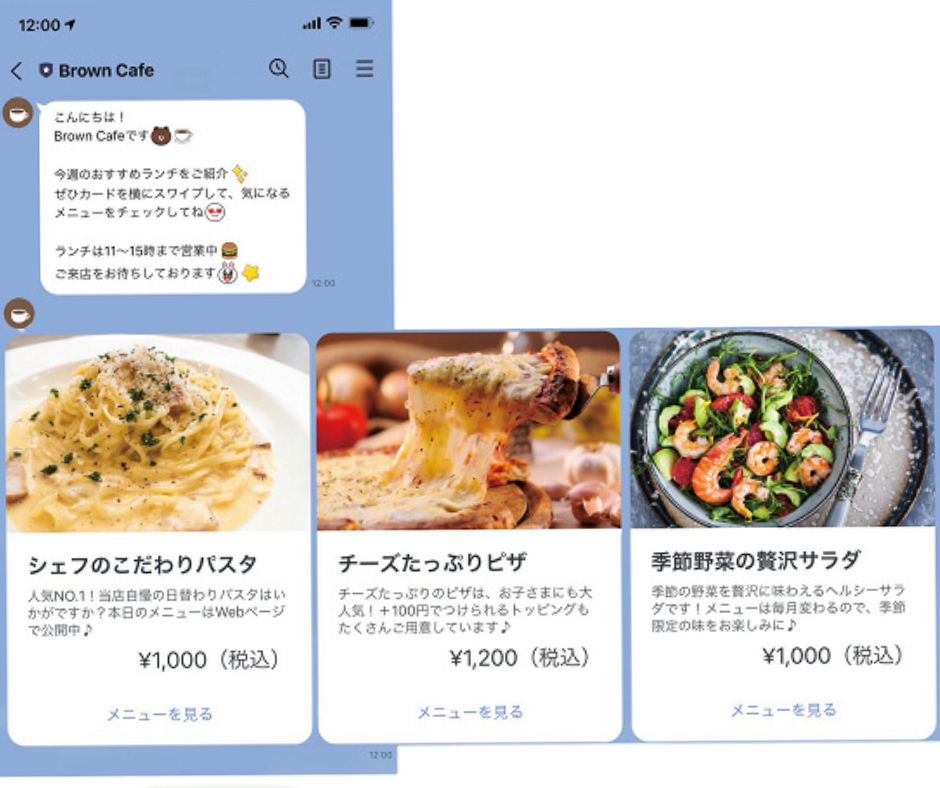 LINE messages have a higher open ratio than newsletters, and can lead to user actions such as visiting the profile or making a purchase by delivering real-time information.
4. Account Types
There are 2 types of LINE Official Accounts: verified and unverified.
Verified accounts are those that have passed a review process and have been granted a blue badge. They are displayed in search results within the LINE app. Unverified accounts, on the other hand, can be opened without background checks, but will not be displayed in LINE's search results.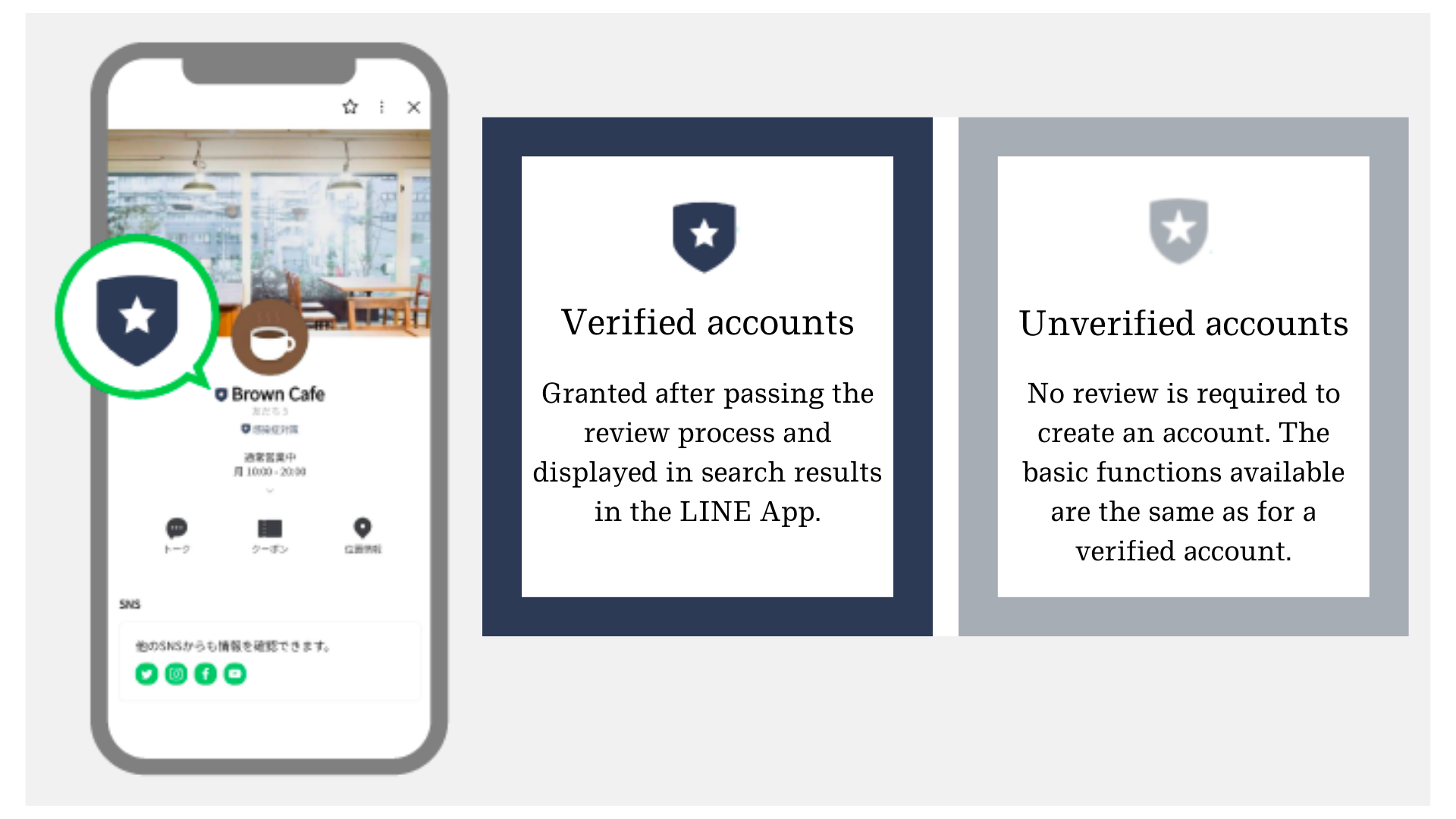 Verified accounts offer a wide range of additional features and services:
– They are granted a blue badge.
– They are displayed in search results within the LINE app.
– Branded promotional materials (posters, etc) can be downloaded for free.
– Paid novelties can be purchased.
– Coupons can be displayed for LINE-related services.
– "CPF – Cost-Per-Friend" campaigns can be used.
At DMFA, we offer comprehensive management services for LINE Official Accounts and LINE Ads accounts, including account setup. As LINE requires advertisers to register a Japanese credit card to run ads, we can do it on your behalf and set up monthly invoicing for any ad spend. 
Contact our LINE team for a free consultation. We will ensure that your account passes the verification process, opening the door for your business to grow in the Japanese market.