The topic on everyone's mind today is the coronavirus impact and how we can adapt to this new normal. As an online marketer running digital campaigns in the COVID-19 era we must regularly ask ourselves, what is working and what isn't? In this article we will talk about the impact of COVID-19 on Japan and what digital advertisers should know in order to maximise their Japanese marketing efforts during this global crisis.
How is the coronavirus pandemic in Japan?
There were a lot of mentions of Japan at the beginning of the year, starting with the second confirmed case of COVID-19 outside of China in January1. This was followed by the Diamond Princess cruise ship that was quarantined just outside of Yokohama on 6 February.
At the end of March, the IOC announced that the 2020 Summer Olympics would be postponed for a year2. As you can imagine, this decision greatly affected the Olympics sponsors and advertisers who were looking to target the sporting event's audience.
By 3 April, Japan had banned the entry of foreigners from 73 countries and regions3. Shortly after, Japanese Prime Minister Shinzo Abe declared a state of emergency for Tokyo and six other prefectures most affected by the coronavirus. On 16 April, he extended this to the entire country. Although the government cannot force a legal lockdown of these areas, people have been asked to work from home and stay at home as much as possible. In addition, businesses such as bars, restaurants, and live music venues have been advised to stay closed during this time.
You can view the current numbers here.
Coronavirus impact on industries in Japan
Similar to other countries experiencing travel bans, lockdowns, and other restrictions due to the global pandemic, consumer spending in most sectors are seeing a decline. With the government asking people to stay home and practice social distancing, industries involving gatherings of large groups and travel have taken the largest hit. On the other hand, food and beverage sales are up as well as pharmaceuticals and Ecommerce.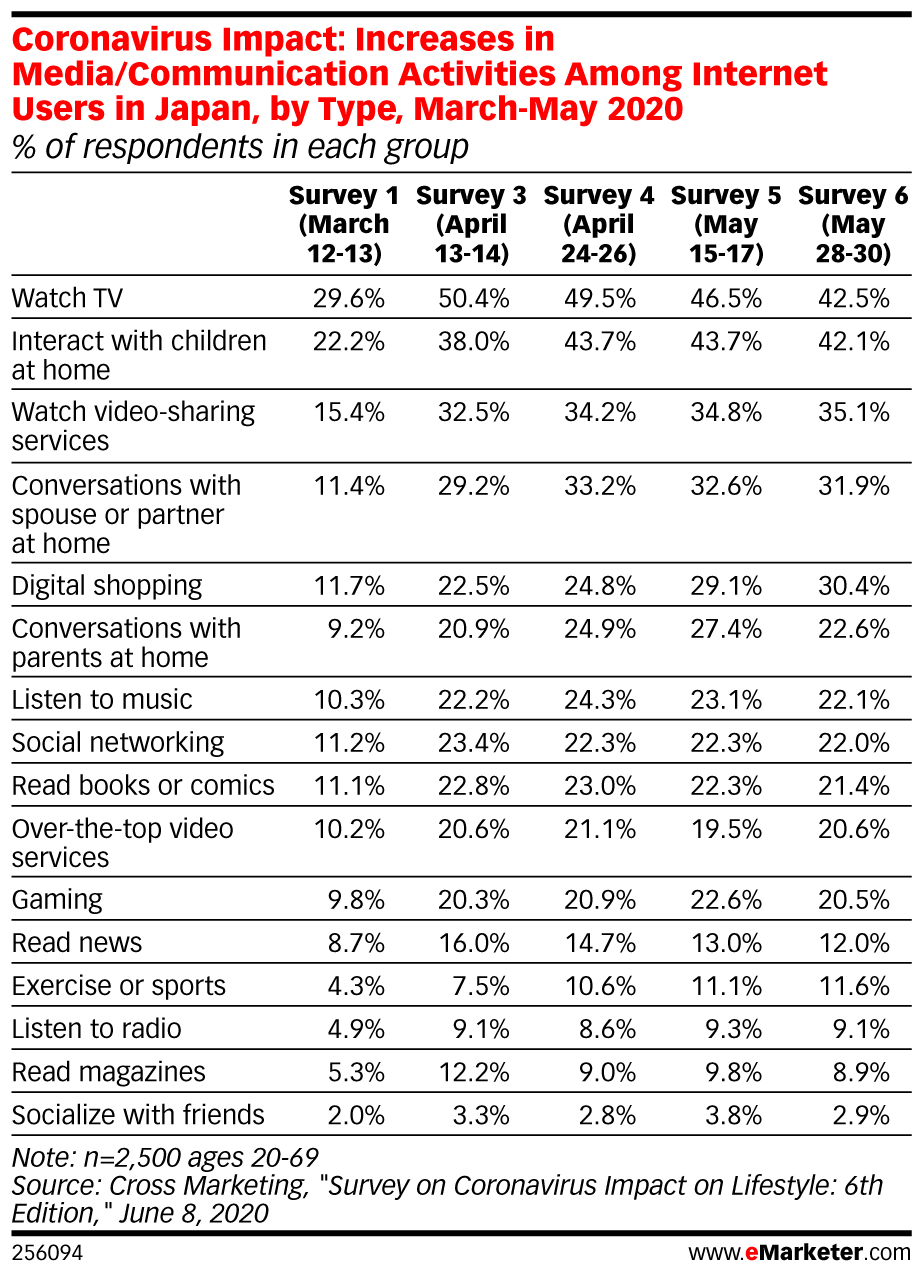 Although Japan's Ecommerce sales are up, Japan has stopped accepting all types of international mail from 27 countries, and EMS and AirMail from 126 countries4. This is due to fewer flights going in and out of the country. As a result, many foreign companies are unable to post products to Japanese customers.
Digital advertising on the rise
Since the state of emergency was declared, even traditional Japanese companies have been forced to turn to digital platforms for work, meetings, and marketing. Fortunately, Japanese businesses had already been shifting their advertising budgets towards digital. Japan, who has historically focused on traditional media, saw a dynamic change in 2019 when digital ad spend surpassed TV for the first time5. With even more people spending their time online, we believe this is the time for advertisers to leverage this increase in digital media consumption and find out what it is their customers are searching for online.
Advertising in Japan during the coronavirus pandemic
According to Yahoo! JAPAN's data, they saw an increase in their number of users by 26% in March 2020 compared to December 20196. With more visibility of PPC ads, this is a great time to leverage the increase in exposure and turn them into conversions.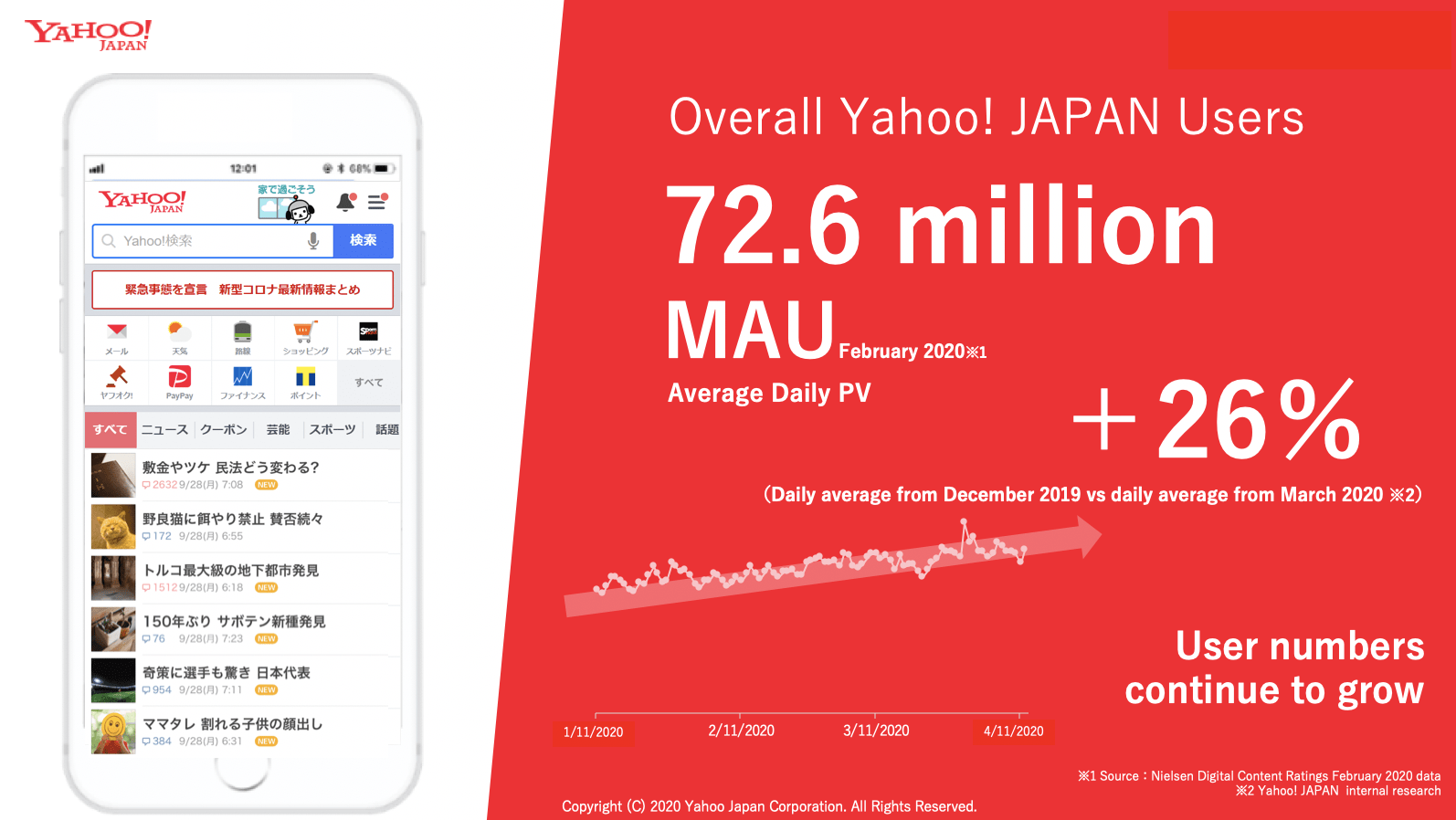 In terms of popular search items, Japan's no.1 web portal reports an increase in the categories of health, retail, finance, consumer goods, and job search.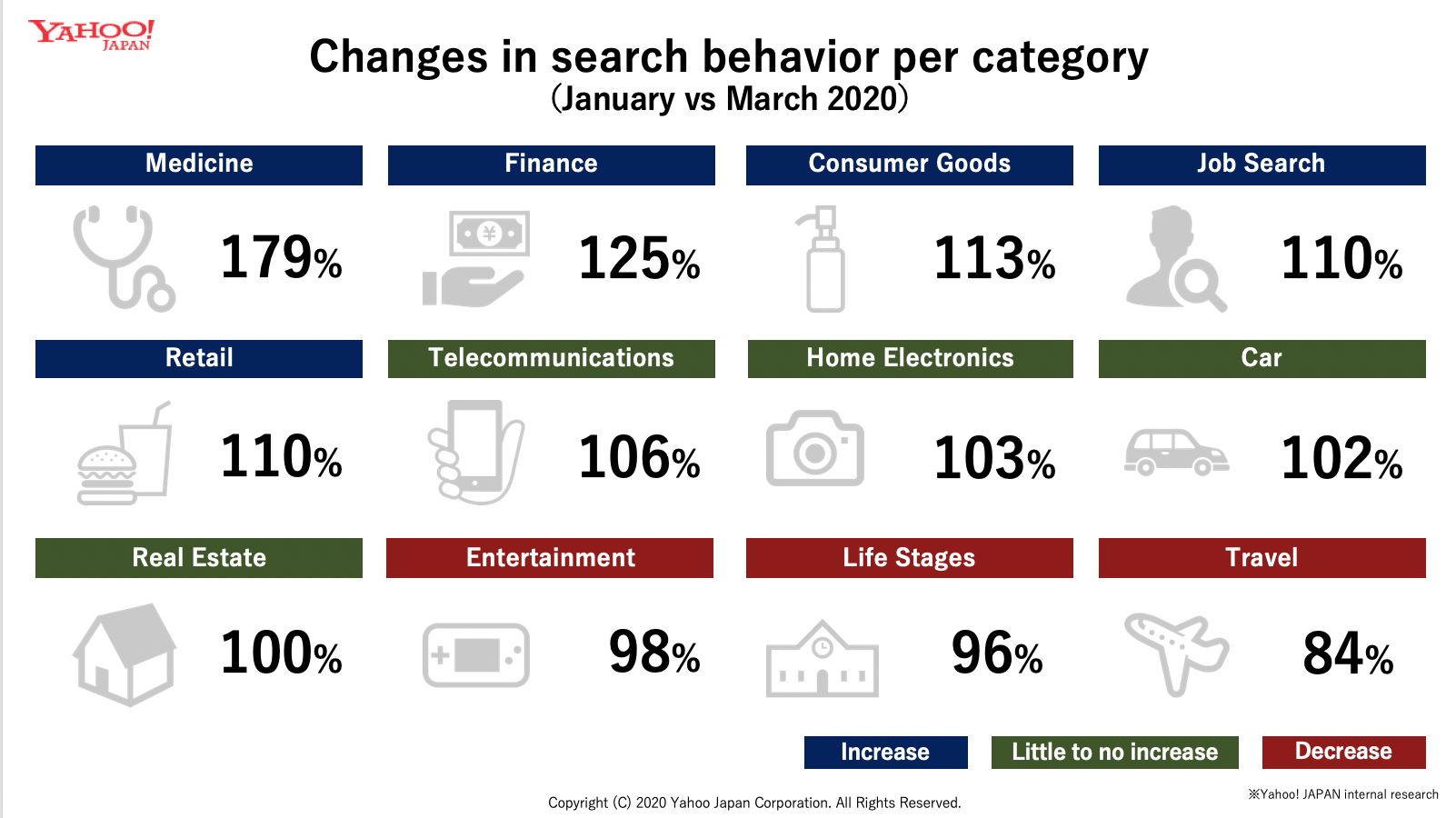 As for Ecommerce, with travel restrictions put in place, Japanese consumers have been panic buying online along with the rest of the world. Even those who were once sceptical of inter-"net shopping" have been pushed to make purchases online, which is driving the nation's Ecommerce industry. For digital advertisers, online payments becoming the new norm for Japanese consumers is great news. It will, therefore, become easier to promote products and services online in Japan in the future, for example: SaaS, e-learning, and mobile games.
In a survey conducted by McKinsay & Company on Japanese consumer sentiment during the coronavirus crisis, some behavioural changes can be seen in online consumption. Evidently, many people are concerned about their health and are trying to manage all aspects of their life from within their home. Based on this survey, we see opportunities for foreign advertisers in the following categories:
home entertainment (online/mobile gaming)
health
online video and music streaming
Ecommerce (household goods, products for children and electronics)
Changes to make to your PPC campaigns
PPC experts should be able to identify current keyword trends and discrepancies where CVRs do not match the number of impressions. If your conversions have dropped and you have not made any changes to your campaigns, it is worth revising your content to meet the expectations and priorities of the current Japanese internet user.
If you are looking to improve your PPC conversions during the coronavirus pandemic, our team of Japanese digital marketers will be happy to help. We currently provide Yahoo! JAPAN, Google Ads, and LINE Ads support in the Japanese market. Contact us for your first free initial consultation.
1WHO (January 2020)
2Olympic.org (March 2020)
3The Mainichi (April 2020)
4Japan Today (April 2020)
5Dentsu Marketing Report (April 2020)
6Yahoo! JAPAN (April 2020)