The LINE Official Account: a starting point for selling products
Since the 2015 launch, BOTANIST – one of I-ne's flagship brands, has quickly established its strong position within the market, among powerful domestic and international competitors. BOTANIST gained support from all people with their simple, clean products. At the time, the brand's marketing goal was to focus on utilising digital channels.
"Even though most of our sales were offline, we wanted to sell our products on online platforms like Amazon and Rakuten" – says Mr Inamasu. "We understood that having products available online can boost sales in just the same way as distributing them to retail stores (e.g. local drugstores)." 
"Our strategy was simple: first, we set up an ecommerce website listing our products. We used this as our base, and expanded sales channels by operating in physical stores too. We used the LINE Official Account to reach customers online, sharing promotional offers and directing customers to our website."
"For example: we used BOTANIST's LINE Official Account to deliver messages that would encourage customers to buy our products, making the purchase process very easy: when users tap the 'Buy now' button, it would automatically redirect them to a multi-cart landing page, where they can select their preferred ecommerce platform to finalise their purchase (like Amazon, Rakuten, etc).""We also distributed time limited discounts that would further increase sales and conversions through the LINE app."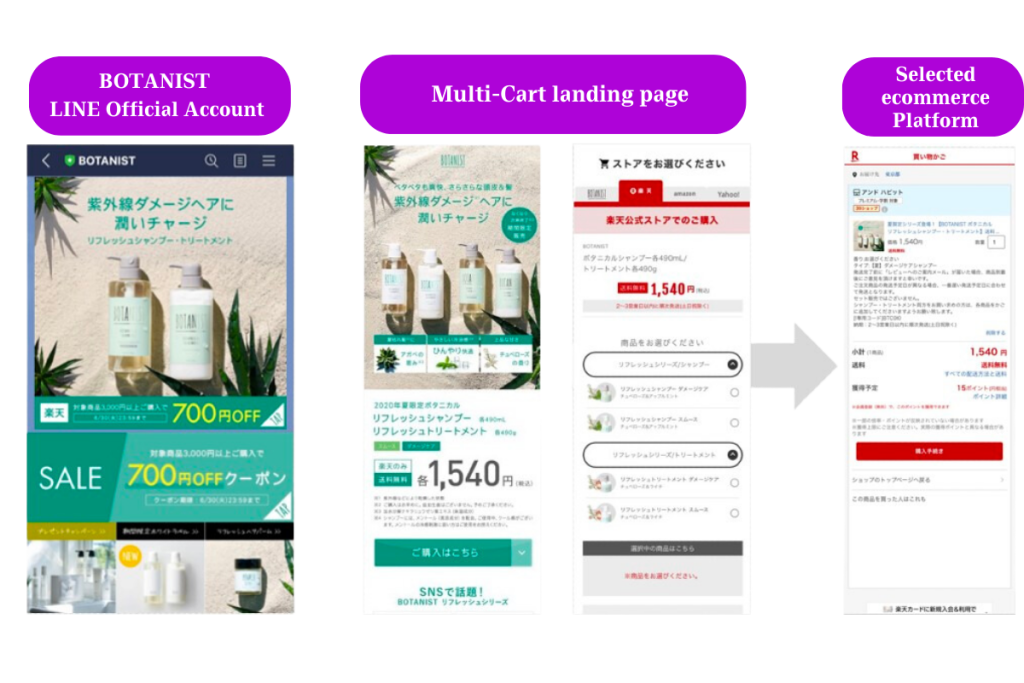 "Online marketplaces frequently compile lists and rankings of best-selling products and feature them on their main page. This leads to increased brand awareness and product purchases. You can compare it to showcasing a product in a prime location within a physical store. We managed to enter those rankings with the help of I-ne's LINE Official Account." 
"If a product sells well on the ecommerce site and enters the ranking, it has a high chance of becoming the 'no 1 best seller' which is a great achievement. You can then mark this product with a 'no 1 best seller' sticker when distributing to physical stores. The next step is to showcase it in an optimal location, and run further promotions (like getting LINE points when purchasing refillable products). This creates a positive cycle: customers first try our products by purchasing them online, and we make it easy for them to repeat purchases in physical stores across the country. Our LINE Official Account has an essential role in this process – it is the first step of the customer journey, and kick-starts the whole cycle." 
---
Mass-marketing vs in-depth asset analysis: landing pages, creatives, and ad copy
BOTANIST's LINE Official Account has amassed a whopping 18 million+ Friends, as of October 2022. The most substantial increase occurred between 2016 and 2020, when the brand organised 5 large-scale campaigns that included in-store announcements, bundle deals, LINE sticker promotions and other activities across their marketing channels. They also delivered the same ad content to all of their Friends at once, but have recently decided to change their approach and the way they operate. 
"Unlike other social media or digital marketing platforms, LINE has a unique pay-as-you-go message delivery system. Therefore, it is crucial to deliver effective content to the correct users. In July 2020, we decided to, rather than mass-send the same creative to all of our Friends, take more of a personalised approach. We conducted in-depth data analysis and implemented a PDCA cycle to be able to further optimise this strategy" – Mr Inamasu says. 
"We prepared a large number of creative options and ran multiple tests to see which performed best. Detailed analysis of assets (comparing different images, text styles and placements, etc) helped us establish what type of ads get the highest CTR, and which combinations lead to the most purchases."
"It also helped us understand our customers better – we could see certain patterns, like landing page transitions depending on the users' age. We then used this data to improve our messaging, delivering ads that maintain high levels of engagement. On top of that, we increased direct communication with our customers, posting brand-related content like news or of our 'BOTANIST' journal on the LINE timeline – a completely free option!"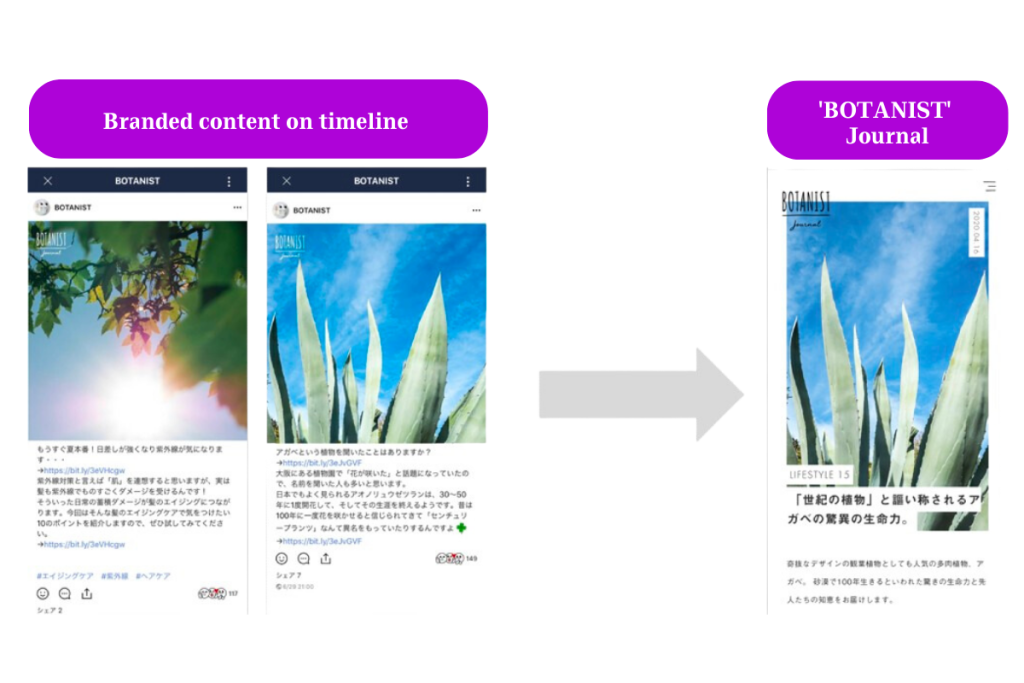 ---
Transforming the LINE Official Account into an official brand app
"Currently, I-ne has four main sales channels: our own ecommerce website, online marketplaces like Amazon and Rakuten, retail stores (like drugstores), and I-nes's own physical stores. We are planning on accumulating customer data from each of those channels, and implementing a comprehensive CRM system that is centred around the LINE Official Account. It is challenging to gather user data through offline purchases, but we have developed various strategies that help us acquire the necessary information (for example a LINE points campaign, where customers can get gift points when they send us a photo of receipt via LINE)."
"We are also planning on switching from paper to digital loyalty cards that can be issued via the LINE Official Account, which will help tracking both online and offline purchase behaviour."

"We plan to continue using the LINE Official Account not only for sales, but also for customer care (e.g, 'thank you' messages) and further communications with our community. I think LINE goes so much further than other social media platforms." – Mr Inamasu says. "It allows for better and closer one-on-one communication with customers." 
"While effectively utilising LINE's services and functions for sales promotion campaigns, we are planning to establish our LINE Official Account as our brand app."
---
Brief summary of I-ne's LINE marketing strategy:
Goal:
Directing potential customers to the ecommerce websites, leading to conversions
Implementing a CRM system that helps to acquire new customers and increase engagement
Actions taken:
Using the LINE Official Account to connect with customers and direct them to the ecommerce site
Raising brand awareness and increasing the number of LINE Friends by running campaigns on LINE (e.g. stamps or exclusive promotions)
Results:
Over 18 million Friends on their LINE Official Account which now functions as a starting point for sale promotions and product purchases, across various ecommerce sites.
DMFA is the official overseas LINE representative, and our team of bilingual Japanese digital marketing experts can answer your questions about running digital ads on the LINE Ads platform. We also offer full support and management of LINE Ads and LINE Official accounts. To get started with LINE Ads, please get in touch.