SABON Japan Inc.
SABON Japan (SABON) offers a variety of natural body and hair care products. It opened its LINE Official Account in 2019, and regards LINE as the cornerstone of its customer relationship management (CRM) strategy. It focuses on one-to-one communication by linking membership information with users' LINE accounts. We spoke to the company's E-commerce & Digital Marketing Manager, Yumiko Nishi, about its efforts to increase customers via LINE and its secret to increasing e-commerce sales.  
Objective
Centralise membership management and increase one-to-one communication.
Policies
Drive users to link their SABON membership information with their LINE account (i.e. become provisional members) as a preliminary step to registering for full membership on the SABON website.
Segment messages, based on purchase history, to users (provisional members) whose membership information is linked to their LINE account. 
Enhance the content on LINE's 'rich menu' and promote each service to users.
Results
Sales via its LINE Official Account were approximately five times higher than via email, and ROAS (return on ad spend) was around 1000%. 
About 30% of total e-commerce sales came from LINE.
On days when SABON sent out messages, sales via its online customer service were three times higher than at other times.
Around 50% of sales via its LINE Official Account came from the rich menu.
---
Linking membership information with LINE accounts to improve segmentation
SABON is a natural cosmetics brand that was created in Israel in 1997. It launched in Japan in 2008 with its first shop opening in Omotesando, Tokyo. Since then, its original products using natural ingredients, such as body scrubs with salt from the Dead Sea and body soaps rich in plant oils, have gained popularity among women in their 20s and 30s. Its sales have steadily increased and the company currently operates about 50 shops nationwide, mainly in cities.
SABON has always placed the in-store experience as a pillar of its marketing strategy. Under the concept of providing a warm experience where you can feel our ethos, the company works to increase brand awareness and stimulate sales through in-store initiatives, such as having water stands where people can try products and employing in-store beauty advisers to provide advice to customers.
However, its focus has shifted to digital marketing more recently. A key part of this strategy is its LINE Official Account.
"The goal of our digital marketing efforts is to centrally manage membership information and attain one-to-one communication. We decided that a LINE Official Account would be the best tool for this. For example, if we had our own app, users would have to download the app and enter personal information to register. Users would also have to open the app to check messages sent out within it. After considering the convenience for our customers, we realised there was no way we could not make use of LINE, which many people already use on a daily basis."
SABON has been running its LINE Official Account since April 2019. Its main KPI at that time was the number of membership registrations on the SABON member website.
"Currently, we recommend that customers who visit our shops become friends with us on LINE and then become a SABON member. However, to register as a member, they need to enter their date of birth and email address, so we ask them to first become a 'provisional' member, which they can do with a few taps after adding us as a friend.
Once they've registered as a provisional member, they are then prompted to link their SABON membership information with their LINE account. This way, they can use our LINE Official Account as a membership card after linking the two. This then allows us to segment our messages based on their purchasing history."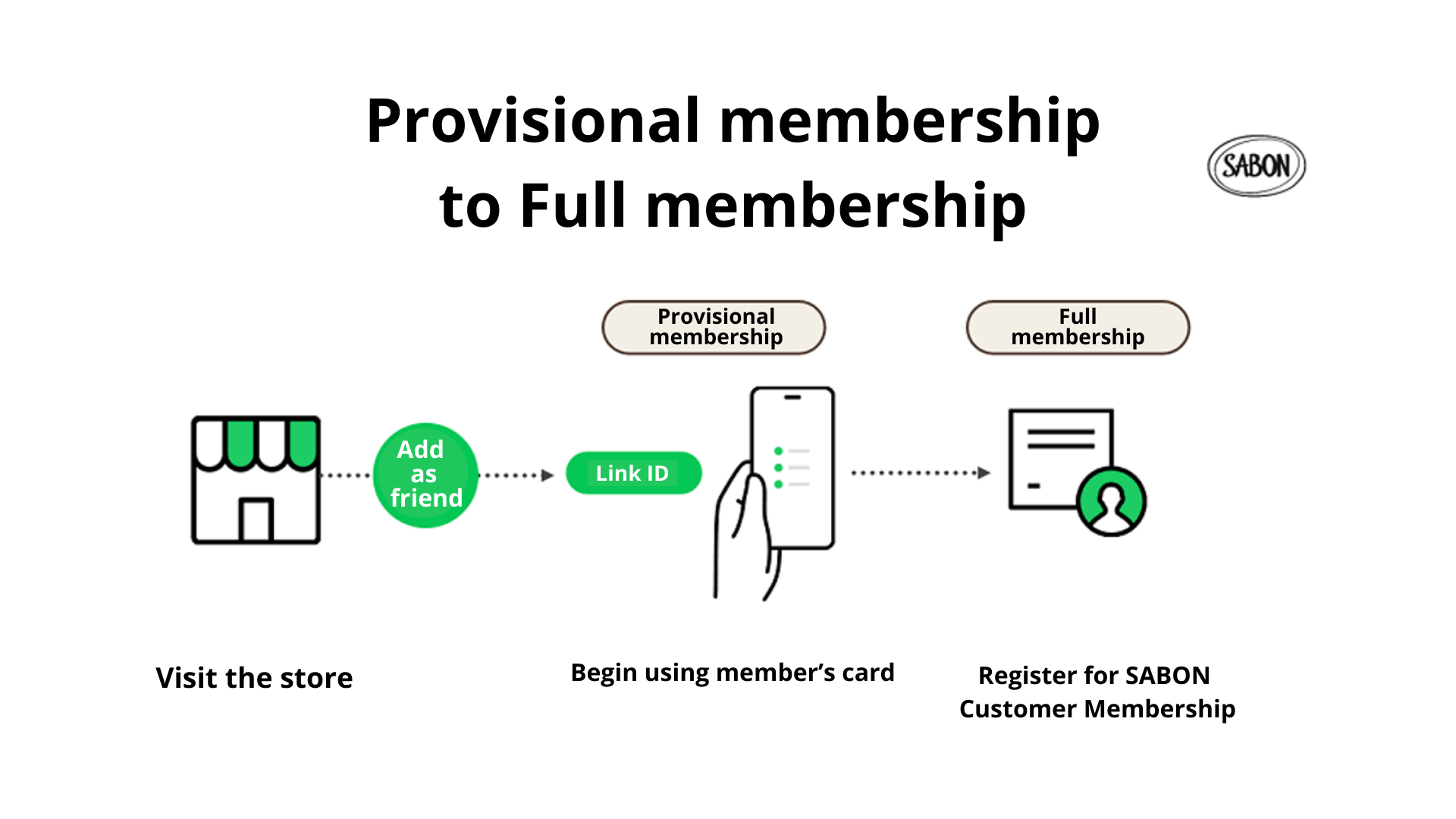 Afterwards, provisional members receive messages that promote the benefits of becoming full member. For example, the SABON Nature Mileage Club, which started in May 2021, is a programme available only to full members. For users who make environmentally friendly purchases, such as using eco-friendly bags or foregoing wrapping, they are offered original goods such as hand towels and eco-friendly spoons as a reward. 
"The registration rate for full membership has doubled since we first sent out information about the SABON Nature Mileage Club to provisional members. By switching them to full membership, we can use the data to communicate even more closely with each individual customer, for example by sending out birthday offers. Centrally managing membership information and purchase history via our LINE Official Account mean we can implement efficient and effective marketing measures to increase customer loyalty."
---
30% of e-commerce sales come from the LINE Official Account
Currently, SABON sends out messages from its LINE Official Account about once a week. It utilises LINE's 'rich message' function to promote the brand's principles. The visuals for its creatives are supplied by the Israel team, and SABON Japan adds copy, decides on the colour schemes and makes other adjustments to make them more suitable for a Japanese audience.
"We work to ensure that our messages clearly communicate product information and offers. As of August 2021, we have about 1.46 million LINE friends, and that number is growing by about 50,000 every month. Our aim is to deliver information that is meaningful to our LINE friends while being careful about the frequency and timing so that we don't get blocked."
Sending out product information and offers to users while promoting the brand's principles
Of the messages that go out, segmented messages based on purchase history lead to the most sales. For example, the conversion rate for reminder messages to users who have left the e-commerce site without making a purchase after placing an item in their cart, or so-called "basket drops", is 15 to 20 times higher than the average for the e-commerce site.
"Sales via our LINE Official Account are five times higher than those via email, and the ROAS is as high as 1,000%. 30% of all of our e-commerce sales come from LINE, making it an indispensable channel."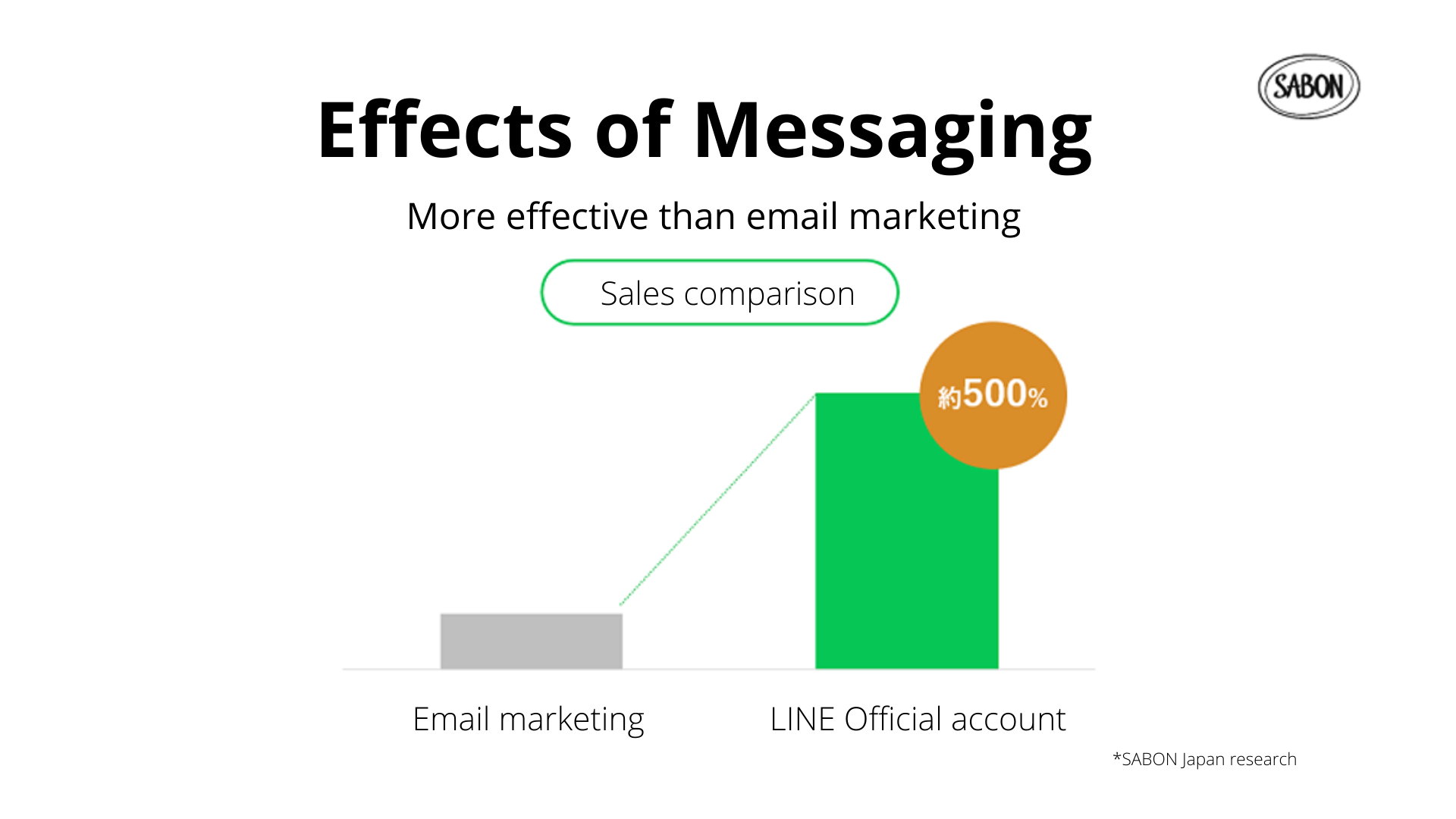 SABON's use of the rich menu is also noteworthy.
"We change the design of our rich menu every time we launch a new product in order to appeal to customers quickly. We have also created tabs for 'Latest Information and Membership Information' and 'Various Services', and the menu switches between these tabs. We have been able to further increase sales over the past year by enhancing the rich menu with online customer service and a virtual store."