As the world became more digital in 2020 due to the COVID-19 pandemic, Japan's ecommerce market saw a surge in sales as the Japanese stayed home and avoided brick and mortar stores. According to GlobalData, 2020 growth predictions for ecommerce in Japan increased from 7.2% to 10.1%, estimated to reach $197.1 billion USD. In this article, we will examine how the global pandemic changed consumer behaviour and fuelled ecommerce market growth in Japan, as well as growth-hacking tips for increasing your Japanese ecommerce sales.
Consumer behaviour during COVID-19 in Japan
Japanese consumers have been traditionally slow at adopting new behaviours, mainly due to their aging population. This, however, has changed dramatically due to the pandemic. With the insurgence of people working from home, even some traditional Japanese companies have had to switch to digital platforms, forcing Japan through digital transformation. Although Japan hasn't seen strict lockdowns when compared to Europe or North America, the multiple states of emergency and the promotion of 「お家時間」or "staying at home" has had people adopting online shopping at an unprecedented rate. As a result, more people are switching to digital platforms, media, and apps, ordering food delivery and everyday items online.
For more information on Japanese consumer behaviour, download our White Paper.
Opportunities for overseas retailers
Japanese online shoppers are becoming more open to making online purchases from international sellers. As you can see below, the number of online shoppers making cross-border purchases is growing.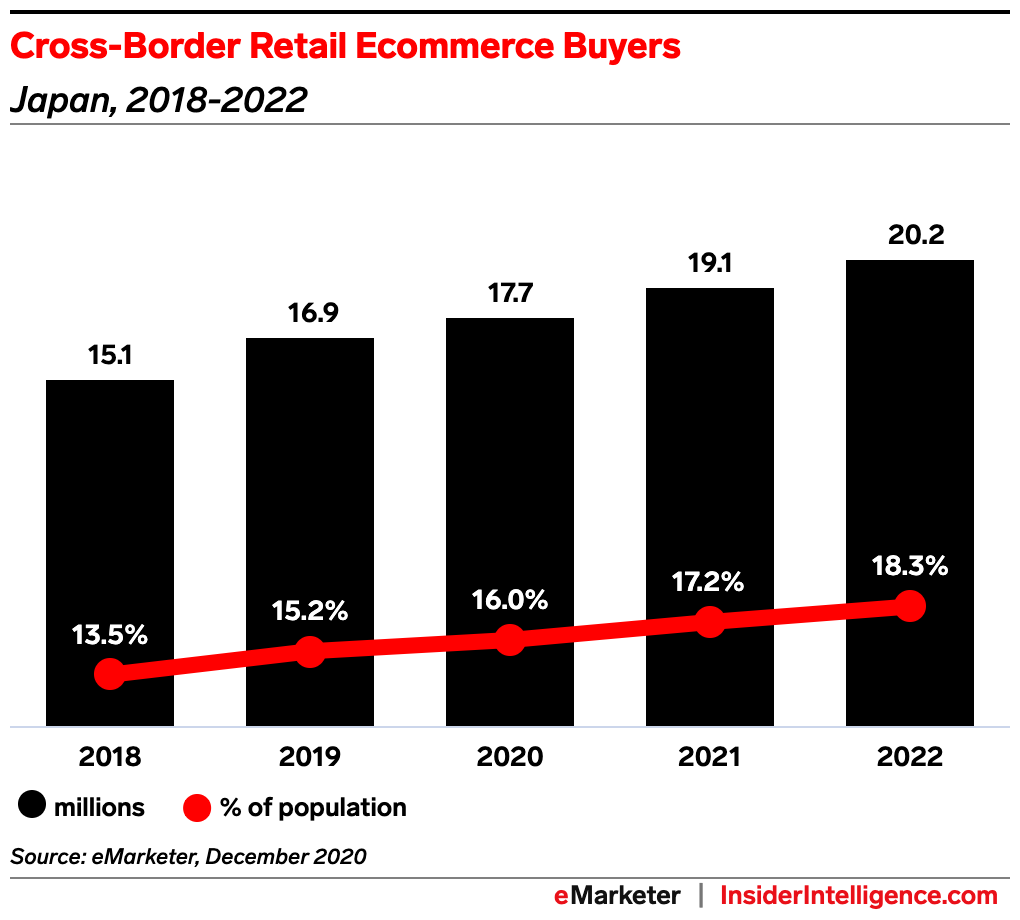 The growth of overseas sellers is evident in Shopify's sales figures from the Black Friday-Cyber Monday sales event in 2020 where they saw the highest growth at 350% for the Japanese market. Furthermore, Shopify mentioned that Japanese consumers spent the most on average, at 11,090 JPY ($106 USD) per purchase. Similarly, ecommerce giant Amazon has seen a massive sales growth of 27.7% in Japan in 2020.
 ▶ How to enter the Japanese market during the COVID-19 pandemic
How to growth hack your ecommerce sales in Japan
Unlike other foreign markets, you cannot simply list your product on a Japanese ecommerce marketplace and expect sales. Japanese consumers are unique and have a particular set of criteria for making any type of purchase, especially online. Follow these steps in order to win the trust of your Japanese customers and increase sales in Japan.
Ensure all product description and checkout procedures are in native Japanese.
Include as much detail and as many photos as possible. Japanese consumers require lots of information in order to make a purchase decision. 
Whether it's hiring a freelancer, installing a chatbot or partnering with an agent in Japan, try to offer customer support in Japanese. Less than 10% of the population understands English.
Run PPC campaigns on both Yahoo! JAPAN and Google. Yahoo! JAPAN is Japan's no.1 digital platform.
Try to sell on one of Japan's top ecommerce marketplaces, such as Amazon, Rakuten or Yahoo! Shopping. Run sponsored ads within each one if possible.
---
Are you ready to start selling your products in Japan, the world's fourth largest ecommerce market? Ride the wave of increased ecommerce sales in Japan during the pandemic when the Japanese are making more purchases online than ever! If you need help selling or promoting your products online, contact our team of bilingual digital marketers who can support you with your Japanese market entry.