Snaq.me is a snack subscription service where users customise the contents of their delivery by selecting eight out of 100 snack options. Before the first shipment, users complete a "snack diagnosis" to give the company an idea of their preferences. After each delivery, users can provide feedback on their snacks and request different items, leading to more personalised shipments in the future.
Since its founding in 2015, the company has relied heavily on digital marketing campaigns centred around the product. In 2020, snaq.me began full-scale operations on the LINE Ads platform, aiming to acquire new customers. We spoke with Keisuke Ozaki, Head of Digital Marketing at snaq.me, to learn more about their strategy.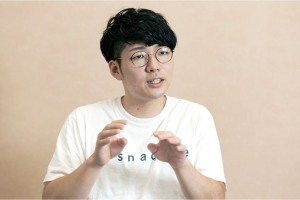 Digital Marketing KPIs and the PDCA cycle
Q: Please tell us about snaq.me.?
A: Snaq.me is a snack delivery service. We are committed to creating snacks that taste great with no additives, such as preservatives or colouring agents. The products are selected by AI software that analyses the preferences of each individual customer. We want to keep our customers excited about the next delivery: 'What snacks will I get next time?'
95% of our customers are women, mostly in their late 20s and 30s, however we have clients across all age groups.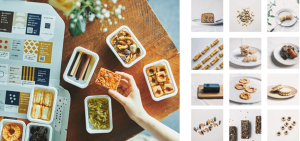 Snaq.me customers can choose 8 out of over 100 snacks for a personalised selection delivered straight to their door.
Q: Please tell us about the marketing strategy for snaq.me?
A: We focus on two key performance indicators (KPIs): the retention rate and the number of new acquisitions. Since we run a monthly subscription service, retention rate is very important, which is why we pay a lot of attention to product quality and customer satisfaction. We constantly develop new products and think about ways to improve the service. We also use digital advertising platforms like LINE to reach new customers.
Q: Please tell us about your role at snaq.me?
 A: I joined the company in March 2022 as Head of Marketing. I am responsible for all aspects of marketing: from new customer acquisition, building brand awareness, new product development, all the way to customer support. One of our big advantages is the fact that we have in-house designers and engineers, which allows us to quickly implement new strategies and thoroughly evaluate creative ideas. 

A 30% new customer acquisition through LINE Japan in 1 year
Q: Why did you decide to run LINE ads?
A: After my arrival at snaq.me in March 2020, we began implementing LINE Ads. To enhance our customer acquisition efforts, we expanded our advertising reach by incorporating LINE ads into our strategy. Snaq.me opened its LINE official account in March 2016, shortly after the company was established, but it was not being used effectively.
Q: LINE Ads offers advanced targeting using data – how do you utilise it?
 A: We are using three main ad distribution methods:
LINE targeted delivery – using LINE's audience data, we are able to deliver ads to our ideal customer group: female users aged 25 and over.
Audience delivery – we are able to track user's online behaviour via the LINE tag installed on our website. This allows us to run very precise retargeting campaigns.
Similar distribution – this strategy helps us find LINE users who are similar to our audience and may be interested in our products.
Q: What results have you achieved after a year of running a full-scale operation on LINE?
 A: We have seen a significant increase in new acquisitions through LINE advertising, which has grown from less than 5% to 30% of the total. Our target demographic has expanded to include customers in their 40s and 50s, demonstrating the effectiveness of our strategy in reaching audiences that other media cannot. The number of conversions increased by 8.4 times in the first half year of distribution, contributing to the overall increase in new acquisitions.
Constant digital campaign optimisation with the PDCA cycle
Q: Tell me about snaq.me's ad creatives.
A: Our ad creatives have undergone extensive testing. For instance, in the case of still image ads, we found that photos taken by users with their smartphones that convey a sense of familiarity have a significantly higher CTR (click-through rate) of 3.6 times compared to professionally taken photos with beautiful compositions. This trend works particularly well with LINE NEWS, which often features news photos, and we believe that photos with a personal touch are more likely to capture users' attention. This discovery has been beneficial for our start-up company as it reduces the man-hours and costs associated with filming.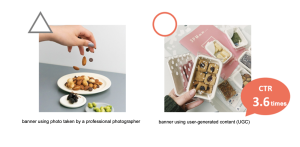 Furthermore, we have tested two text versions of creative titles. What is more user friendly: an appeal to function or benefits? Titles with a functional appeal focus on showcasing the product's features and advantages, such as "Monthly delivery of personalised snacks" or "Experience the thrill of receiving your product." Titles with an appeal to benefits, on the other hand, highlight the specific improvements and outcomes that users can expect from using the product, such as "Why I stopped purchasing snacks from convenience stores."
During the testing of these two versions, we found that the rate of new acquisitions is roughly double when appealing to benefits compared to appealing to function. This suggests that an appeal to benefit is more effective in helping users envision using the product themselves.
Q: Do you use creative formats other than still images?
A: Yes, we use video advertisements. Although the cost per 1,000 impressions (CPM) is 1.7 times higher for videos compared to still images, the click-through rate (CTR) is 5.4 times higher, resulting in a reduction of approximately 30% in customer acquisition cost (CPA). This leads to a comparable or higher number of new acquisitions compared to still images.
Additionally, utilising both still images and videos can increase reach. By combining the two, depending on the specific distribution channel, you can achieve even better results.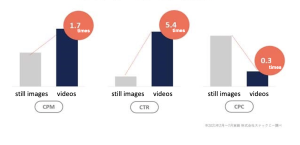 LINE Japan: Things to always remember
Q: What do you pay attention to when running LINE ads?
A: When it comes to acquiring new customers, we approach it with caution and do not solely focus on reducing the CPA. An overly aggressive focus on CPA can result in an increase in ad placements, which may lead to a lower LTV despite a higher CVR. To maintain customer loyalty and satisfaction, it is crucial to keep our products appealing and relevant to existing customers, and to encourage positive word-of-mouth and social media recommendations. We believe that a high retention rate will follow as a result.
Q: Are there any advantages that LINE Ads can offer?
A: From an operational standpoint, LINE Ads sets stringent standards, resulting in higher quality ads compared to other advertising networks and display ads. Another benefit of using LINE Ads is that there is a low risk of damaging the brand.
The LINE Japan Official Account
Q: You also have a LINE Official Account. How do you use it?
A: Our LINE Official Account is one of the ways we provide customer support. To enhance customer satisfaction and retain users, it's crucial that we identify and address even minor concerns and requests. Many customers don't speak up, so our goal is to make it easier for them to reach out. 
We welcome feedback through three communication channels: our LINE Official Account, a website form, and email. By making LINE a daily and familiar means of communication, we aim to lower the barriers for customers to reach out with their opinions and requests.
Q: Do you also use it to send out information to LINE Friends?
A: We use the LINE Official Account primarily for customer support and limit sending messages to minimise the likelihood of being blocked by friends. However, we still send occasional notifications to customers who have linked their snaq.me member account to their LINE account. These notifications inform customers of sales for highly rated snacks in large quantities. We also send out surveys to customers who have repeatedly given low ratings to their snacks to gather information on any potential issues or areas of dissatisfaction.
All inquiries received through the LINE Official Account are manually addressed by customer support personnel through LINE chat. Regardless of the form of inquiry, be it a LINE stamp or a text message, the designated support staff carefully considers their response before replying.
As of August 2021, we have over 100,000 friends on our LINE Official Account. Our customer support team personally handles all inquiries received and aims to create a friendly and personalised experience for our customers. Beyond addressing inquiries, we foster communication by responding to comments such as "This snack was delicious" and "Can you make this kind of snack?" Loyal customers also share their thoughts with us, such as through an occasional Instagram live. When we receive specific complaints or requests, our customer support team promptly shares the information within the company for review and we are confident in our ability to respond quickly by making improvements and introducing new products.
Increasing new customer acquisitions further through LINE Japan
Q: Are you planning of expanding your marketing efforts on LINE?
A: I am eager to implement the "Custom Talk Head View" ads that became available in September 2021. The ability to place ads at the top of the chat list with a CPM billing model makes it ideal for large-scale awareness campaigns. I look forward to leveraging my experience with video ad delivery to make the most of this opportunity.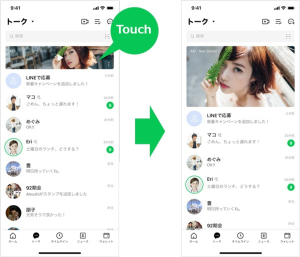 Performance-based advertising "Custom Talk Head View" can deliver video advertisements at the top of the chat list.
We're also looking into expanding our use of the LINE Official Account. Currently, it is primarily used for customer support for existing customers, but we're exploring the possibility of creating a separate LINE Official Account aimed at potential new customers. This not only allows us to reach a wider audience, but also provides an opportunity to engage and inform potential customers about snaq.me services. We're designing a framework for effective communication and generating interest in our services.
Q: Thank you. Finally, please tell us about your future plans for business development?
 A: Besides snaq.me, we have also created the plant-based protein bar CLR BAR and the snack bar otsuma.me for evening drinks. We aim to grow our business by expanding our brand offerings and target audience. LINE is constantly evolving, with new advertising options being developed. We will keep up with the updates and take advantage of new features to avoid missed opportunities and achieve even better results.
DMFA provides comprehensive LINE Official Account and LINE Ads account management services, including account set up. We can also provide payment method registration solutions by opening an account on your behalf and setting up monthly invoicing for any ad spend. Please get in touch with our LINE team for a free consultation. We will ensure that your account passes the verification process, opening the door for your business to grow in the Japanese market.